Miss Rodeo America's Top 3 Montana Silversmiths Fall Favorites!

Staying Flexible in a Changing World
In a world where each day seems to bring a change, it's good to stay flexible. This year's Miss Rodeo America, Jordan Tierney knows that better than most.
She went from having her whole year planned out for her reign as Miss Rodeo America to staying at home in South Dakota on the family ranch. And while the time at home gave her a new way to engage with her fans and educate people on the ins and outs of ranch life it was a roller coaster week by week of not knowing if the world would go back to 'normal'. As one of the most recognizable and active ambassadors for the sport of rodeo and the Western way of life, Miss Rodeo America is out in front of people on a daily basis, in a 'normal' year.
This year Jordan used her social media presence to create that connection, with posting some of her favorite ways to get through her days with either sunglasses for that harsh South Dakota sun or coveralls for when that sun is severely lacking heat and she's out working cows.
As part of her daily life although maybe not when working cows, Montana Silversmiths has been a part of Jordan's wardrobe.
We were lucky enough to have Jordan come and visit us for a photoshoot where she modeled our newly launched Fall product. During which she picked out 3 favorite collections that we want to share with you. These collections fit with all Jordan's need to be able to remain flexible in an ever-changing life and schedule.
"This is one of my favorite pieces! I wear it with my skinny jeans, heels, and a black blazer and it makes me feel so powerful." -Jordan
The beauty of the earrings and necklace is it combines silver artistry and hammered texture design. This special texture captures and reflects the light as the center twists and turns in a rhythm flowing with its owner. An eye-catching compliment maker for any boss babe.
Rocky Top Collection
A favorite of Jordan's because of its versatility, able to dress it up or dress it down with casual jeans this collection is down for whatever the situation or wardrobe.
The Rocky Top pieces feature a brushed, hammered gunmetal texture with some pieces accented with a genuine turquoise cabochon stone. Inspired by the waving and irregular texture of a river's rocky banks.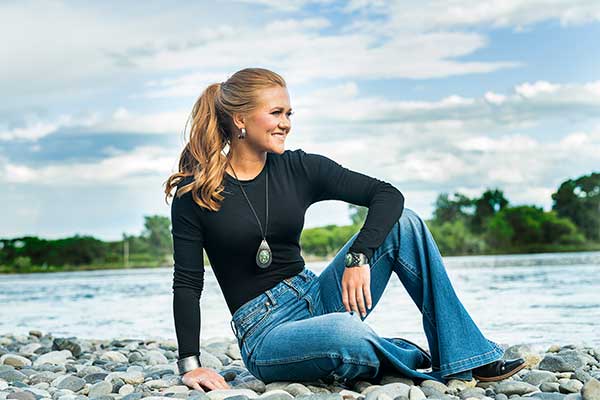 Classic Beauty Collection
Jordan had so much fun wearing this collection during the photoshoot it is no wonder it was one of her favorites. With a double chain matching the bright silver pendant Jordan can literally pair it with anything, again dressing it up or down for whatever she needs.
The third but by no means last collection is Classic Beauty, that features the bright-cut engraved silver finished conchos that form the pendants of the collection. The matching petite earrings are gorgeous little accents to the larger necklace and can be worn as a set or alone.
Montana Silversmiths truly appreciates having such a long-term partnership with Miss Rodeo America and is so fortunate that Jordan and her family made the time to come and visit us in Columbus, Montana for this photoshoot. To see all the great pieces that just released that Jordan and her family wore click here. Here's to a great ending to 2020 and a successful and healthy 2021!