Montana Silversmiths breaks a GUINNESS WORLD RECORDS™ title for largest belt buckle
Every Buckle Has A Story
It all started with a dream. Montana Silversmiths knew they wanted to do something memorable as they approached their 50th anniversary in 2023. Their vision was to tell the story of Montana Silversmiths and the iconic Western industry brand knew it needed to be Big and Bold. That was the only way to truly represent the company that builds the world champion buckles for organizations like NFR, PBR, PRCA, and more, not to mention the thousands of rodeo contestants the world over. What better way to showcase the story of an iconic fixture of the Western way of life than by setting the Guinness World Records title for the world's largest belt buckle?
Since the beginning in 1973, Montana Silversmiths desire to provide quality western classic and fashion jewelry, as well as buckles for rodeos, retailer outlets, and a list of countless champions, competitions, and events, has served to fuel a passion for creating distinctive and authentic products, programs, and partnerships.
To take on the challenge of breaking a Guinness World Records title, the team had to follow numerous guidelines, one of which stated the item had to be an authentic replica, to scale, of an existing buckle that could be purchased by the public. "Wow, did we underestimate the magnitude of this project! We found out early on that we needed to make a buckle SO big we could not build it in our factory. We turned for help from another western industry leader, Priefert Manufacturing Company LLC," Jack Gunion, CEO of Montana Silversmiths, reminisces.
"The vision for this buckle was that it needed to incorporate everything that Montana Silversmiths has perfected through the years, through design and personalization," recalls Judy Wagner, Chief Marketing Officer at Montana Silversmiths, "and we needed to bring to life this vision to share our story, authentically and with attention to every detail. We found a partner in an iconic industry brand, Priefert Manufacturing Company, Inc., a leader in farm, ranch, and rodeo equipment was a welcome fit because of friendships, shared relationships, and commitment to authenticity and Western lifestyle. Together our passion, artistry, and teamwork made this dream a reality."
Montana Silversmiths' iconic Big Horn trophy buckle was chosen for the largest belt buckle official attempt. The artwork for the large-scale reproduction was created in collaboration with Priefert Manufacturing Company, LLC, the largest metal manufacturer in the Western industry, and started the journey to replicate an authentic belt buckle in a BIG way. The replica buckle base was created from aluminum. The design elements were meticulously fabricated; no detail was left untouched to assure accuracy in the creation of a large-scale genuine buckle. Construction started in systematic steps; welding the frame and creating the curvature to exact dimensions, followed by conscientious buffing, painting, and final assembly, a monumental task that took over six months to achieve.
"The story, as told through the buckle, is a perfect icon to depict the products, programs, and partners in a monumental way," says Wagner, Chief Marketing Officer.
Largest Belt Buckle
Like other Montana Silversmiths buckles, this one has a story all its own. The Big Horn trophy buckle design, featuring Montana Silversmiths classic silver filigree, bold ribbons, berry trim, and stars, all highlighted by customizable paint, has been a customer favorite for years. To make this popular buckle larger-than-life, everything was created to exacting specifications: the curvature of the buckle, the carving, the finish, and the intricate details of Montana Silversmiths silver artistry.
The delivery and set-up process of the record-breaking replica was an extreme effort of teamwork. The giant buckle was created and transported in four sections, each weighing just over 250 pounds. Custom-made crates transported each quadrant, and a special stand holds the buckle so it would fit in the Montana Silversmiths showroom in Dallas, TX.
The team had to reroute the ducts for the air vents in their showroom ahead of time to accommodate the buckle's height. They also had to overcome the challenges of making it through multiple doors and taking the quadrants up the freight elevators to the 14th floor of Dallas Market Center to its debut location in the Montana Silversmiths showroom during the 100th Anniversary of WESA, Western and English Sales Association Market.
Montana Silversmiths chose to reveal the official attempt for the largest belt buckle at the WESA Market on January 13th at 4 pm as they pay respect to retailers. Wagner noted, "for without the customer's and partner's support, Montana Silversmiths would not be where it is today, a sought-after brand of distinctive and valued buckles and jewelry."
The GUINNESS WORLD RECORDS™ title for largest belt buckle was awarded to Montana Silversmiths for the largest belt buckle measuring 3.20 m x 4.43 m (10 ft. 6 in. x 14 ft. 6.4 in.) from the official attempt on 20 October 2021.
"The buckle is a perfect way to celebrate the industry and come together to showcase our lifestyle in iconic fashion," Wagner says. "It's a culmination of a lot of people's hard work, it is amazing. Every buckle has a story, and this one tells our story in a big way. We are paying homage to a quintessential piece of the West and cowboy way of life. It is a way for the world to see the Western lifestyle in a different light. This is who we are: authentic, innovative, and genuine."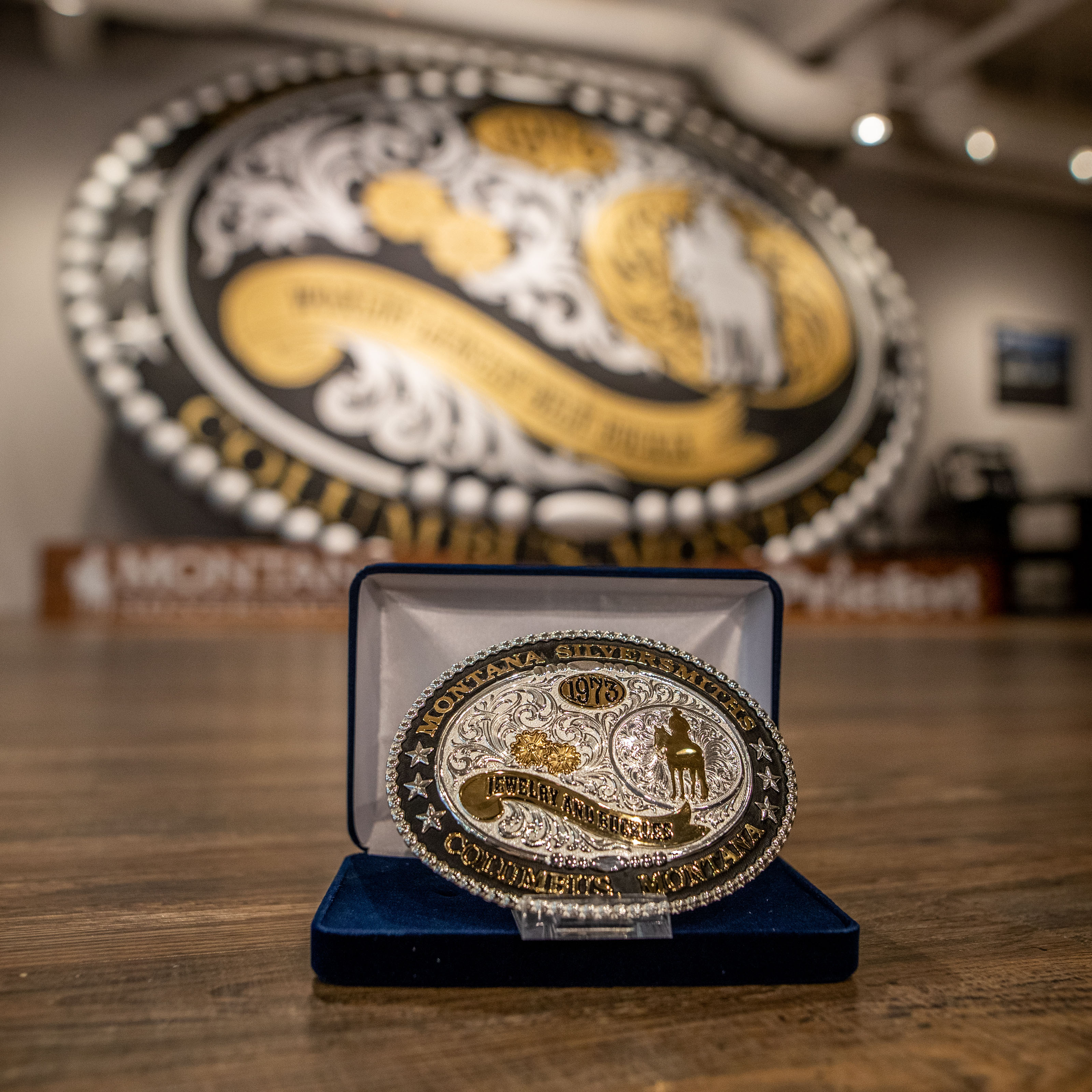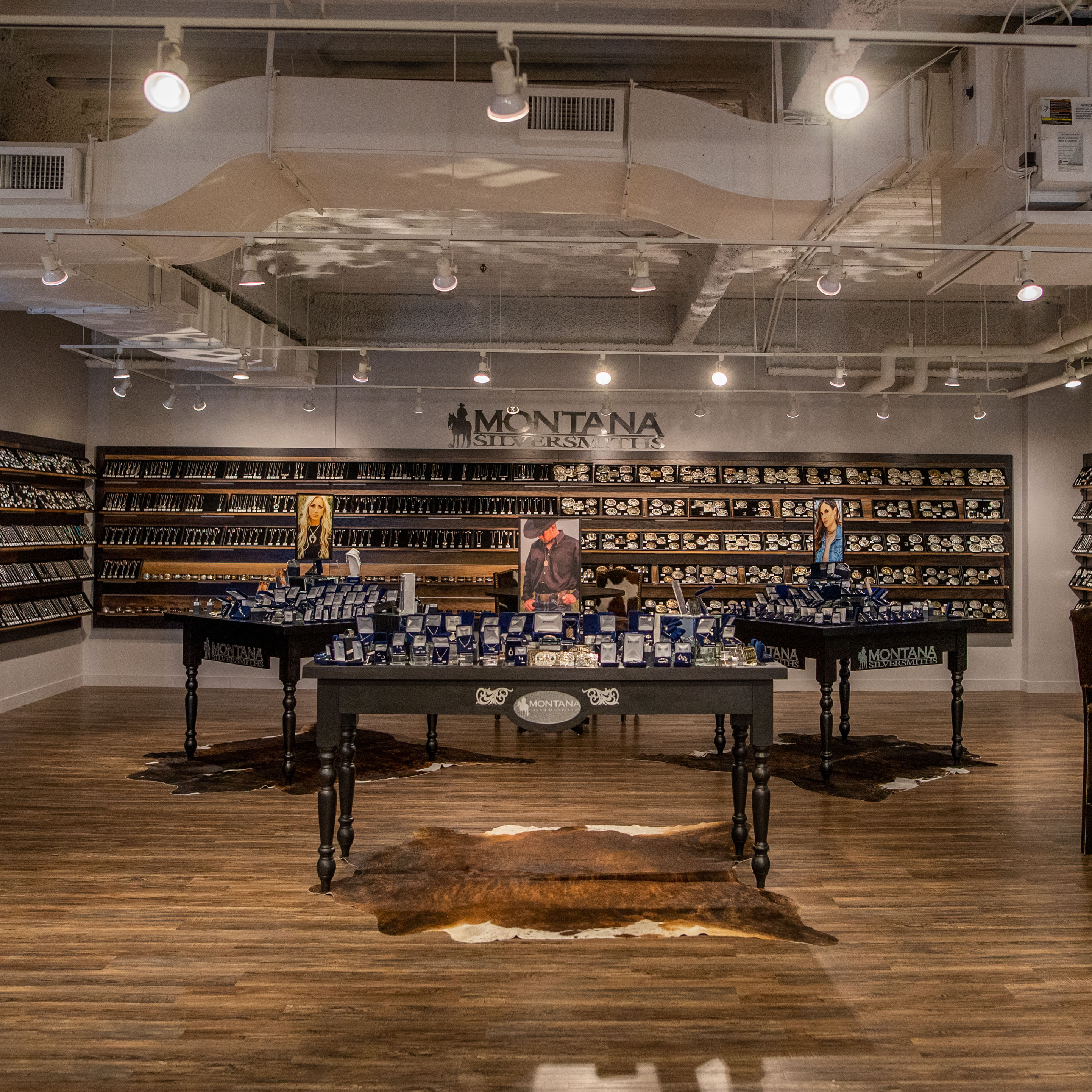 About Montana Silversmiths
Montana Silversmiths is headquarters in Columbus, MT pioneered the development of western fashion in both buckles and jewelry in 1973. The company is known for its skilled craftsmen, perfecting a combination of traditional western designs, and crisply executed engraving styles. These include buckles, jewelry, and lifestyle products for western enthusiasts and individuals who appreciate authenticity and craftsmanship. The company is the Official Silversmith of the NFR (National Finals Rodeo), PBR (Professional Bull Riders), and PRCA (Professional Rodeo Cowboys Association, among other western and outdoor organizations.
For more information, visit www.montanasilversmiths.com.
About Priefert Manufacturing Company, Inc
Family-owned and operated since 1964, Priefert is headquartered in Mt. Pleasant, Texas. Considered a leading innovator in the industry, what began with the launch of a single headgate, has since grown into one of the world's largest rodeo and ranch equipment manufacturing facilities. Given their volume of consumption and history of steel fabrication, Priefert has also expanded into the steel market, specializing in supplying a variety of steel products to manufacturers, service centers, and other volume buyers. A true testament to the American Dream, Priefert is proud to produce a quality product that is made in the USA.
For more information visit www.priefert.com