As a fan of PBR we are offering you $15 off of $75 on regular and sale items*.
Use code PBR11MTS at the shopping cart.
Excludes custom, NFR620TX, Masks & DBOX1
The Rest of the Story
The rest of the story behind the monumental PBR trophy started when Montana Silversmiths was commissioned by the PBR to inspired by the original PBR Championship Trophy of 25 years while advancing the design in 2019 for a new version that would be utilized for 40 years. This trophy speaks to current fans and champions serving as a tribute to the best in the world, PBR World Champions , honoring the top bull riders for the next 40 years.
It took 37 revisions, some of the planet's most talented designers and silversmiths and manufacturing work, over five months in three countries – the U.S., Mexico and Italy.
The final design is an 8-sided tower referencing the importance of 8 seconds in the sport. The tower has 25 small concho buckles marching around the base with all of the past winners' names in gold.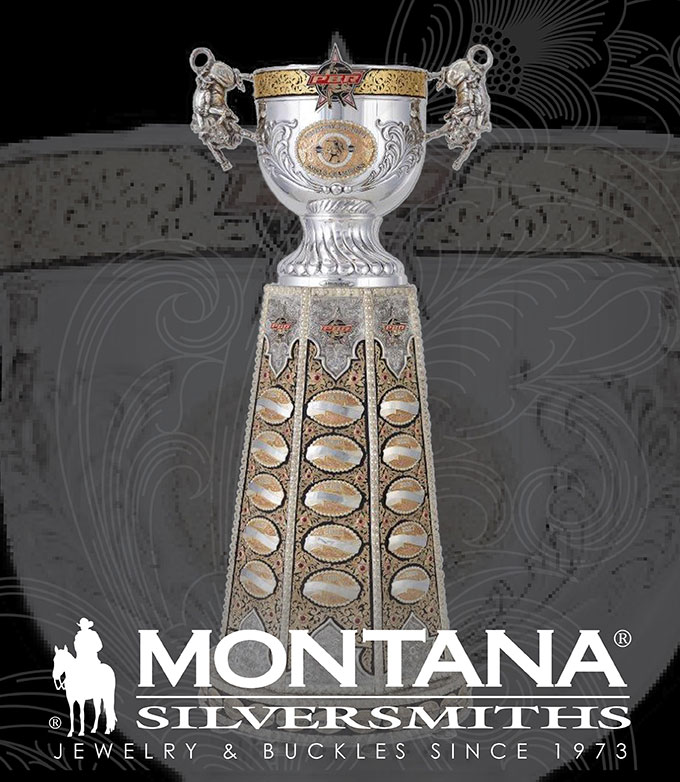 Each of the 8 sides of the tower has 5 buckles on it creating place holders for 40 years of winners. Both the Tower and the Cup design are an elevated design of the original 25-year-old trophy design Cup and tower. Both designed to be viewed from any angle with no specific front or back. The Bull Handles were hand-sculpted in Montana and took 95 hours to sculpt in clay the handles were then cast in sterling silver.
The new trophy weighs 67 pounds – 10 pounds for the cup and 57 for the tower, which has 5.08 lbs. of gold and 30.8 lbs. of silver. The concho buckles on the cup are emblazoned with 64 diamonds.
This magnificent trophy is a spectacular tribute, second only to those champions who win the PBR World Champion and the legacy it represents.
Get your piece of silver artistry today in buckles or jewelry to fit your lifestyle.