Our necklaces and chains come in industry standard lengths. There are 5 different lengths for women and four lengths for men. Below you can view the table to illustrate standard sizes.
STANDARD NECKLACE SIZES FOR WOMEN
16"- Choker Length

17-18"- At collarbone

20"- A few inches below collarbone

22"- At or above neckline

24"- Below the neckline
STANDARD NECKLACE SIZES FOR MEN
18"- Base of the neck (for smaller neck sizes)

20"- To collarbone (most common length for average men)

22"- A few inches below the collarbone

24"- A few inches above the sternum

30"- At the sternum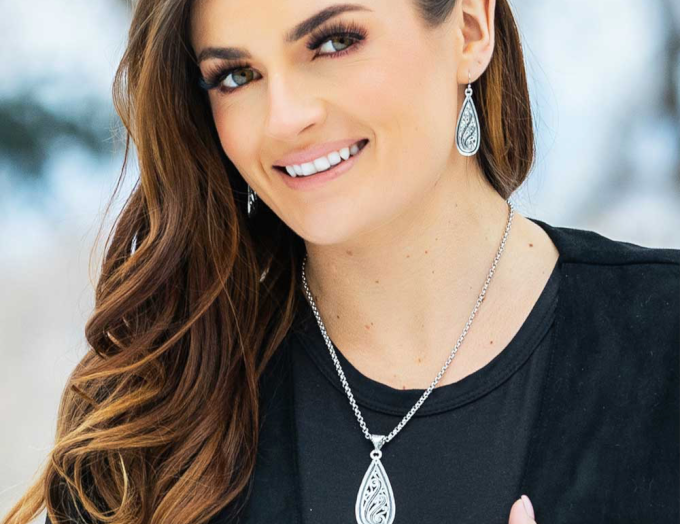 CHOOSING THE RIGHT SIZE
We know that everyone is unique. That's why we've created necklace lengths and options that fit a variety of styles and tastes. Just like each individual has certain style preferences and aesthetic inclinations, we want you to be able to choose the necklace that suits you to 'T'. The majority of Montana Silversmiths necklaces come with an extender that allows you to adapt the length of your necklace up to 3 inches longer. Other necklace chains have 'stations' that again allow the wearer to set the necklace to their preference and current neckline.
PREPARE AND MEASURE
Before you decide on the perfect necklace, correctly determine the wearer's neck size. This will ensure your necklace fits perfectly and is exactly how you want it. Men's necklace sizing corresponds to their shirt's collar size. For women, measuring neck size is essential to ensure specific requirements. If you don't have a measuring tape lying around, a ribbon or piece of string will get the job done! Wrap the ribbon around the base of the individual's neck and mark the desired length, then lay against a yardstick or ruler to determine the ideal chain size.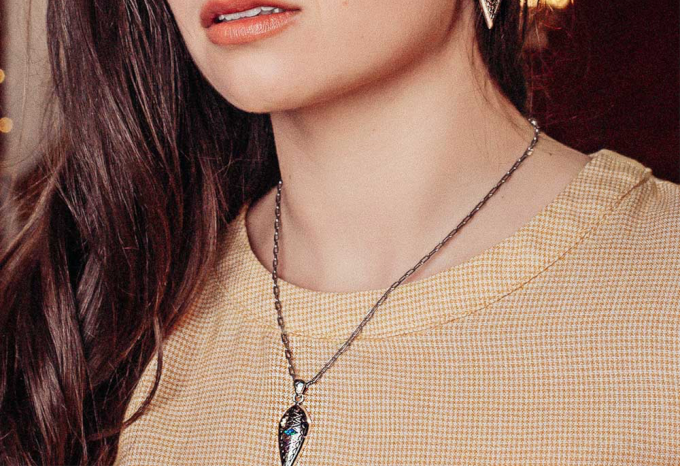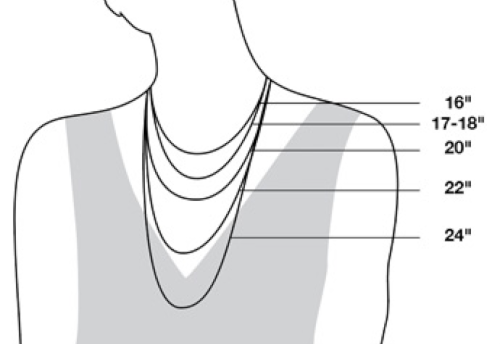 THE RIGHT FIT: FOR HER
As you begin to decide on your perfect necklace, consider where the necklace will be worn and what it will be worn with. Based on the season and occasion, a variety of necklaces could be chosen. Generally, women choose longer necklaces for winter and fall due to bulky clothing, whereas a choker would be the perfect accessory for a summer outing. A good rule to follow as you make your necklace decisions is that the shorter the necklace, the more important the size becomes. Make sure you choose the right size based on your lifestyle and jewelry needs.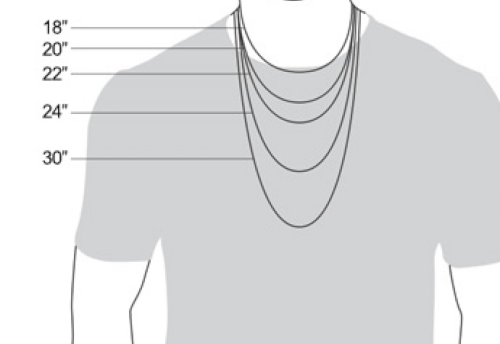 THE RIGHT FIT: FOR HIM
Most necklace lengths for men are around 20 inches and typically fall at the collar bone. Oftentimes, necklaces that include a cross, dog tag or medallion are slightly longer in length. Chains with various lengths can be worn together for a layered look. Consider the occasions the necklace will be worn and what type of clothing it will go with as you determine which necklace meets your specific requirements.