Wrangler Celebrates Diamond Anniversary with a Montana Silversmiths Diamond-Encrusted Belt Buckle

Wrangler's 75th Anniversary Buckle
A belt buckle can tell you a lot about a cowboy or cowgirl. Whether it's been passed down for generations, celebrating a milestone, or earned with blood, sweat, and tears at the rodeo, every buckle has its own story. For Wrangler, the one-of-one, $40,000 75th Anniversary belt buckle from Montana Silversmiths honors its western roots planted in 1947.
The buckle not only tells the story of the Wrangler brand but also the talent and craftsmanship that were utilized to create it. The iconic Wrangler logo is placed in the center of the buckle with cursive 75th anniversary depicted below. Each letter is meticulously hand-cut in brilliant sterling silver and carefully placed on the incredible gold buckle base. Hand-applied dark black paint behind the letters provides depth and drama to the piece. Rose gold filigree covers the brilliant gold buckle hand cut and skillfully engraved to showcase the craftsmanship and expertise of the Montana Silversmiths master engravers. 75 hand-set diamonds to adorn the background and the edge of the buckle, each diamond memorializing a year of the iconic organization. Lastly, the deep blue topaz in each corner pays homage to what is at the heart of the Wrangler brand, denim to complete this astonishing and purposeful design.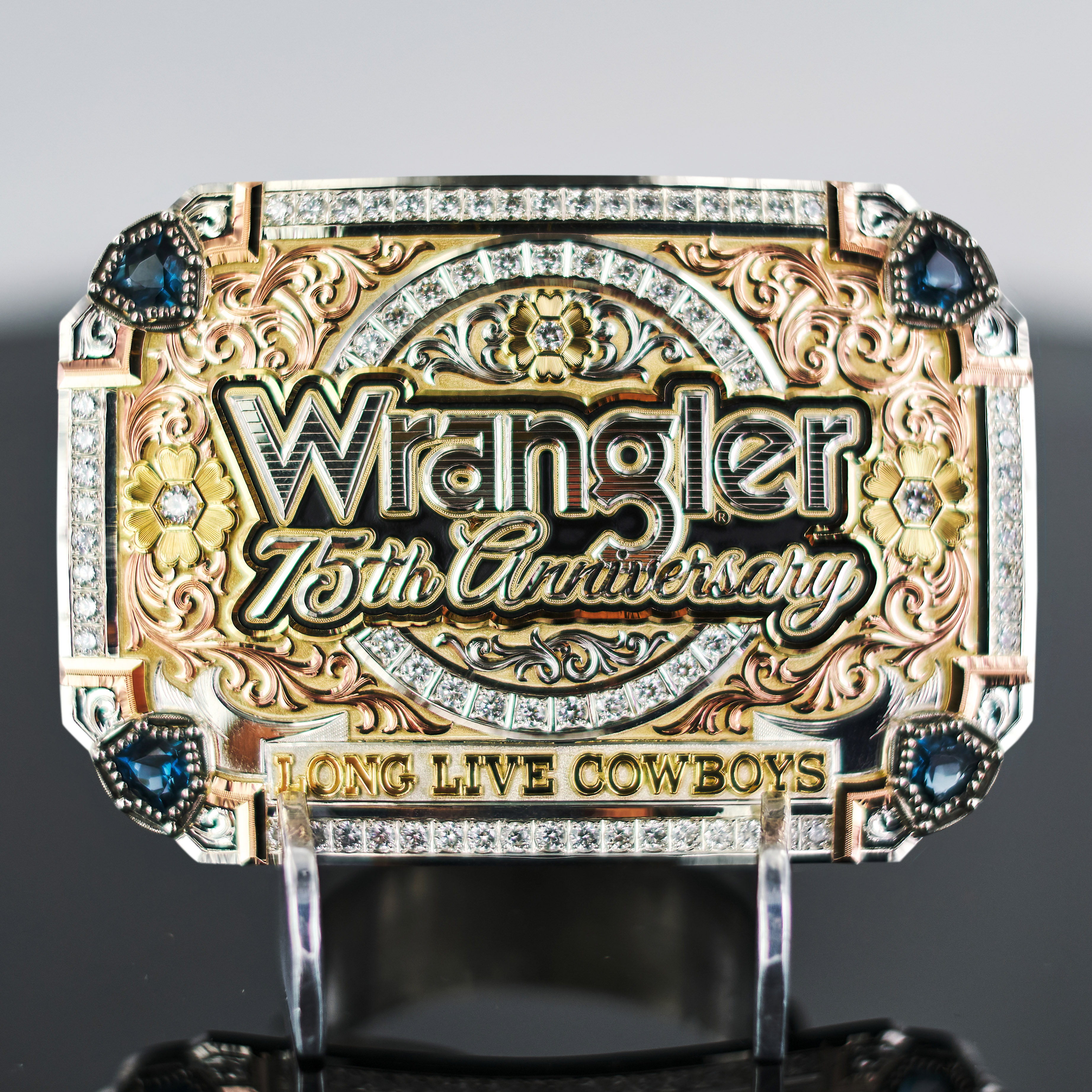 But this isn't just about legacy; it's about investing in the next generation. In partnership with WSM Auctioneers, Wrangler is putting this belt buckle up for auction as the first step to investing in the next 75 years of the western lifestyle.
All proceeds from this auction will go to two 501(c)(3) organizations dedicated to preserving and promoting the western way of life, Western Sports Foundation and Lead Changes. These organizations are devoted to cultivating the next generation of rodeo athletes and true cowboys and cowgirls.
Celebrating its 75 years, Wrangler opens the auction bidding at a fitting $7,500 for the 6.34-carat buckle featuring 75 diamonds, yellow gold, denim blue topaz, and sterling silver accents. For more information on this buckle and start bidding for this one-of-a-kind piece of art, visit WSMAuctioneers.com.
If you can dream it, we can build it.