Every Buckle Has A Story With Haven Meged
Haven Meged faced a buckle dilemma.
During his phenomenal 2019 rodeo season, the 21-year-old Miles City, Montana cowboy earned not one, but three coveted Montana Silversmiths buckles.
Meged will get both his world championship and WNFR average buckle sent to him in Stephenville, Texas where he is a senior at Tarleton State University. The Rookie of the Year buckle is already home in Miles City. Meged won the tie-down roping national championship for TSU last June at the College National Finals Rodeo in Casper, Wyoming.
But there is room for only one buckle to be worn on his belt daily with pride for all to see.
And Meged made his decision.
"The gold buckle," he replied quickly. "I'll wear it every day."
This championship buckle was 20 years in the making for a cowboy who became the first in Montana's long storied rodeo history to win the world tie-down roping title and NFR average.
He is also the first tie-down roper to win a world title and rookie of the year since ProRodeo Hall of Famer Joe Beaver in 1985.
"I guess I've been wanting to win a world title for while … my whole life," Meged said. "All that work, dedication I put into it. It seems the more I worked at it, the better I got."
---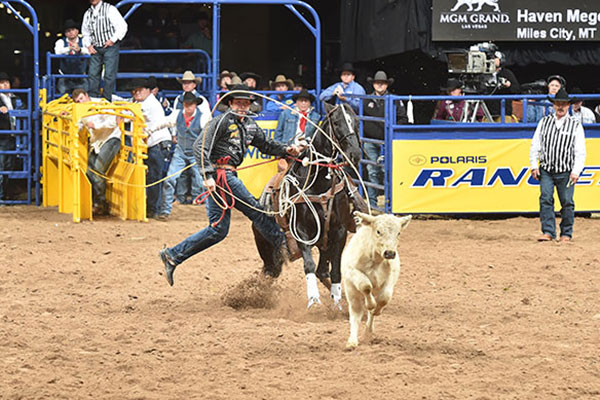 ---
His mother, Misty said 'he's been packing a rope since the age of one. Meged got serious about roping in eighth grade and has spent long hours in the practice pen with one of his siblings – Hays, Harley or Holden – serving as the videographer for every run.'
"You need video," Meged explained. "You might be thinking you're making a good run, but the video will show otherwise. You need to critique yourself. Study every run and correct your mistakes."
He also credits longtime family friend Brett Fleming for his success.
Meged said he practices daily, running through six to 10 horses each session.
Meged, aboard his horse Beyonce, was a model of consistency at his first Wrangler NFR. Of 10 solid runs, eight were between 8.0 and 8.7 seconds. He won the WNFR average with a total time of 85.7 seconds, by two-tenths of a second better than Tyson Durfey of Brock, Texas. Along with winning the average, Meged placed in five rounds to finish with $246,031 and hold off former world champion Shane Hanchey, of Sulpher, Louisiana by $1,200.
While steady in the arena for all 10 rounds, Meged admitted he was anything but on the awards stand after the final performance.
"Everybody knew I had won but for me. I knew I won the average," he said. "When they handed me the gold buckle, I almost started crying."
"It's different now, saying you're a world champion."
He has been wearing his buckle for winning the 2018 Montana Pro Rodeo Circuit year-end tie-down roping championship.
But he's ready for the upgrade.
"I like cool buckles," said Meged.
Now he has three more for his collection.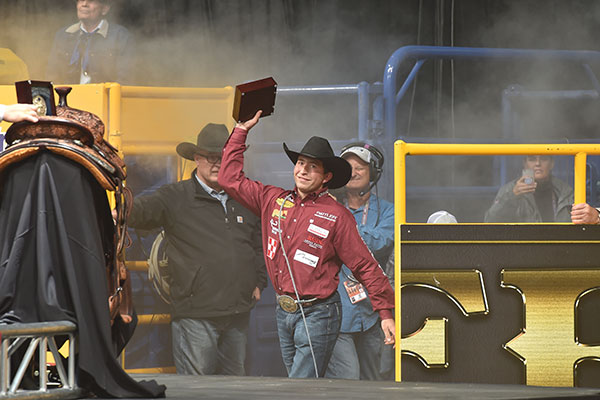 Written by Joe Kusek for Montana Silversmiths. Photography from PRCA.