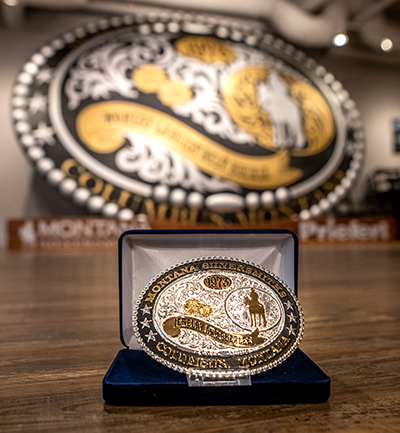 Montana Silversmiths Record Breaking Buckle
The Big Horn trophy buckle design, featuring Montana Silversmiths classic silver filigree, bold ribbons, berry trim, and stars, all highlighted by customizable paint, has been a customer favorite for years.
This classic buckle can be customized anyway you like, with your own stone color, figure, date trim and wording. Of course, if you'd like it to say World's Largest Buckle, that's fine too.
It all started with a dream. Montana Silversmiths knew they wanted to do something memorable as they approached their 50th anniversary in 2023. Their vision was to tell the story of Montana Silversmiths and the iconic Western industry brand knew it needed to be Big and Bold. That was the only way to truly represent the company that builds the world champion buckles for organizations like NFR, PBR, PRCA, and more, not to mention the thousands of rodeo contestants the world over. So why not showcase the Western way of life with an larger than life iconic fixture?
Every buckle has a story and this giant buckle is no different. Joining with Priefert Manufacturing Company LLC, Montana Silversmiths set out to acheive their goal of making an exact replica of a customer favorite. It was an undertaking that was meticulous and exacting, and the results are proof of that.
To learn exactly how Montana Silversmiths and Priefert came together to make this piece of Western magnificence visit our blog.