Miss Rodeo America's Favorites
Learn what Kennadee Riggs, Miss Rodeo America 2023, loves to wear from Montana Silversmiths.
---
Kennadee's Kindness Tag Necklace and Earrings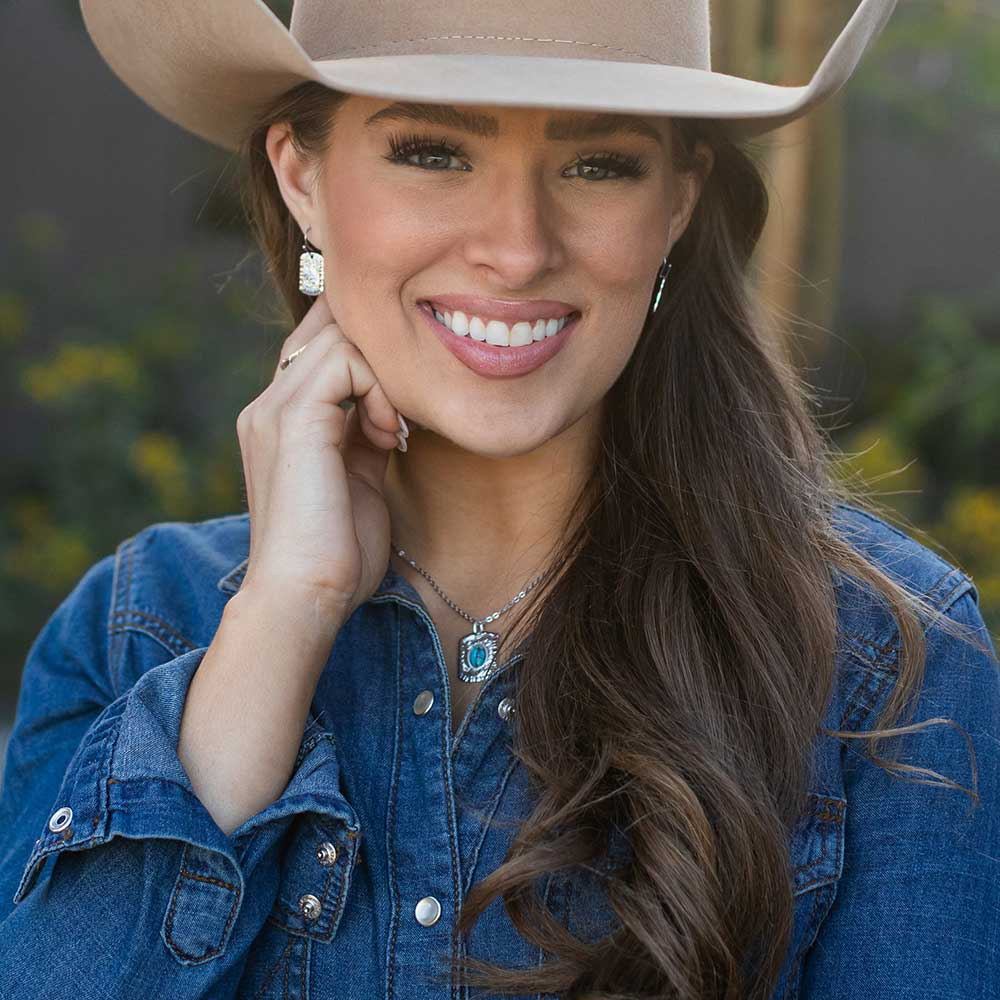 "Not only is this necklace sentimental to me, but it goes with everything!"
Kennadee's platform of kicking up kindness inspired the simple design of the stunning necklace. The silver tone tag features a Western engraving in the center with a chiseled edge to complement the design. In the center, a bright compressed turquoise stone with copper adds a Western flair to the piece. Secured by a 19 inch silver tone chain.
Get the silver tone tag earrings to finish the look!
---
Lucky Seven Turquoise Necklace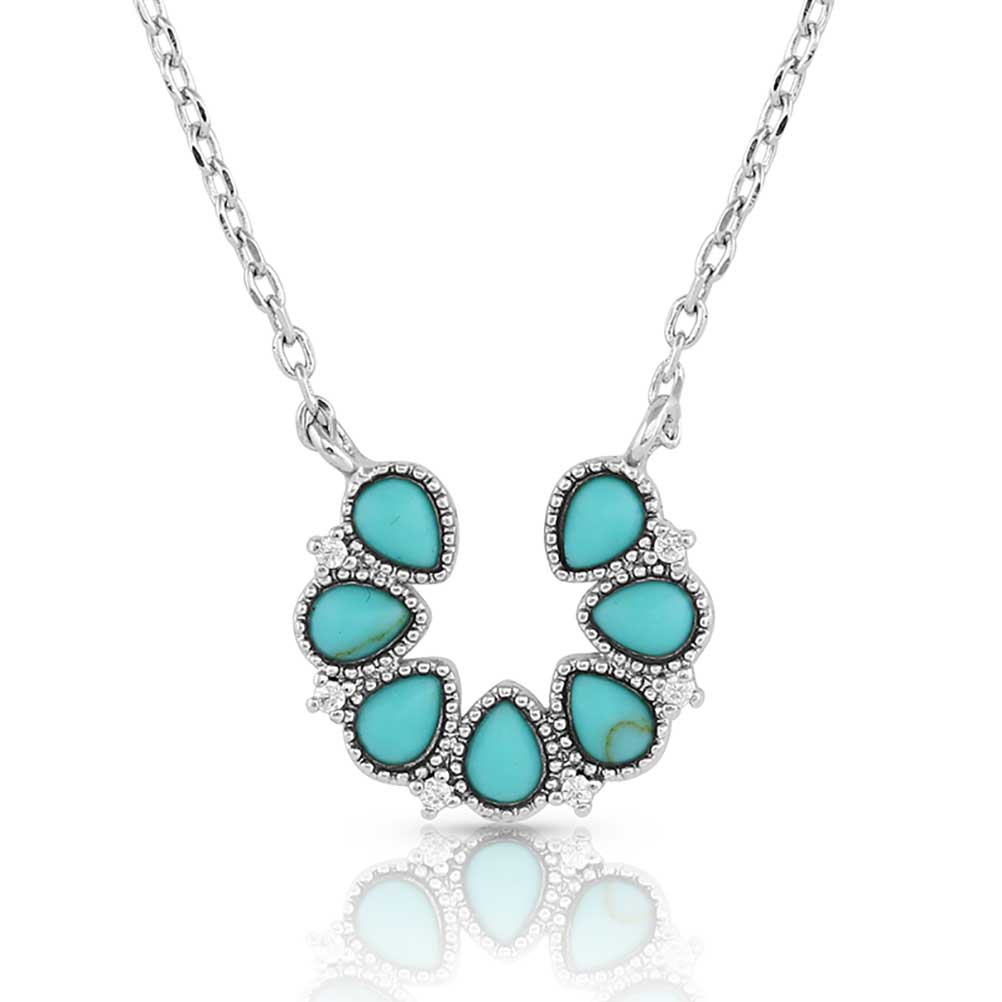 "A little pop of turquoise is my favorite way to dress up an outfit with neutral colors and this necklace does the job!"
Capture all the luck you would ever need. The Lucky Seven Turquoise Necklace features seven beautiful teardrop-shaped turquoise stones arranged to make the lucky horseshoe pendant. In-between the turquoise stones are small clear cubic zirconia crystals to add some subtle sparkle. The necklace is complete with an 19 inch split chain.
---
Free Spirit Adjustable Feather Ring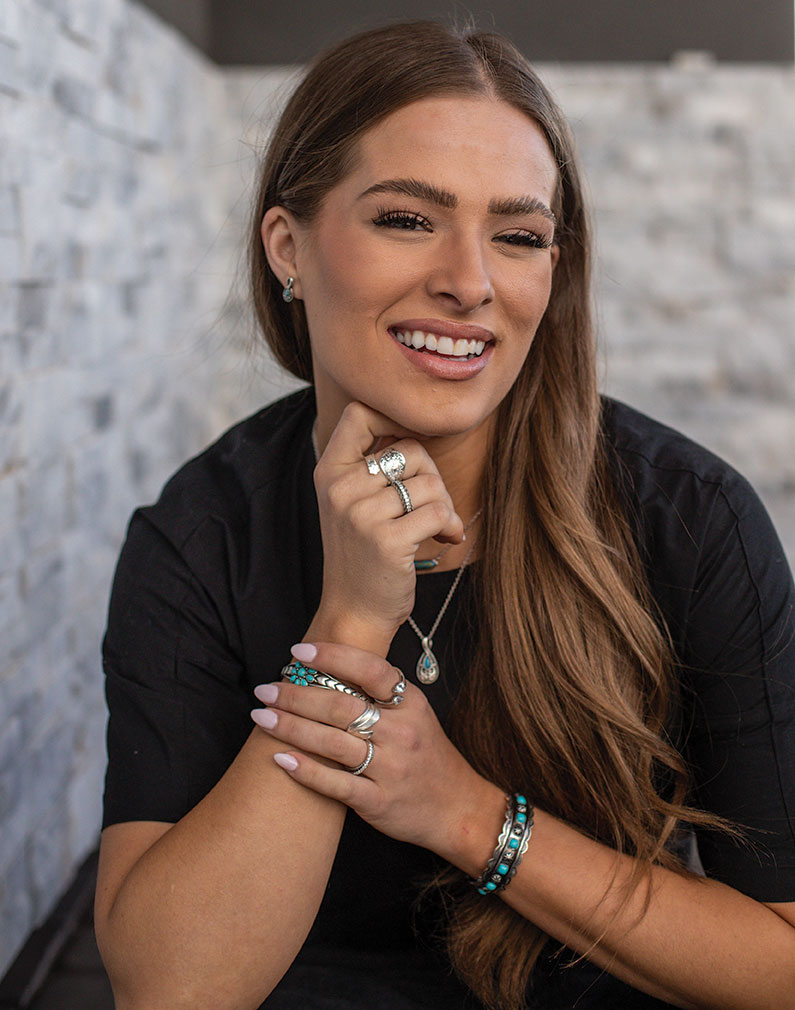 "You can catch this ring on my finger at almost any given time! It pairs well with any jewelry combination and can fit every one of my fingers since it is adjustable."
Because there's nothing like the feeling of freedom! What better way to capture that then with a feather? This unique one size fits most, an adjustable sterling silver feather ring has a design that squiggles along and around your finger. An unexpectedly comfortable ring this feather ring has delicate details from the shape to the overall miniscule fletching details that run the length of the design. Ring is size nine but the open design allows the ring to be tightened or expanded. One size fits most.
---
Love Me Crystal Earrings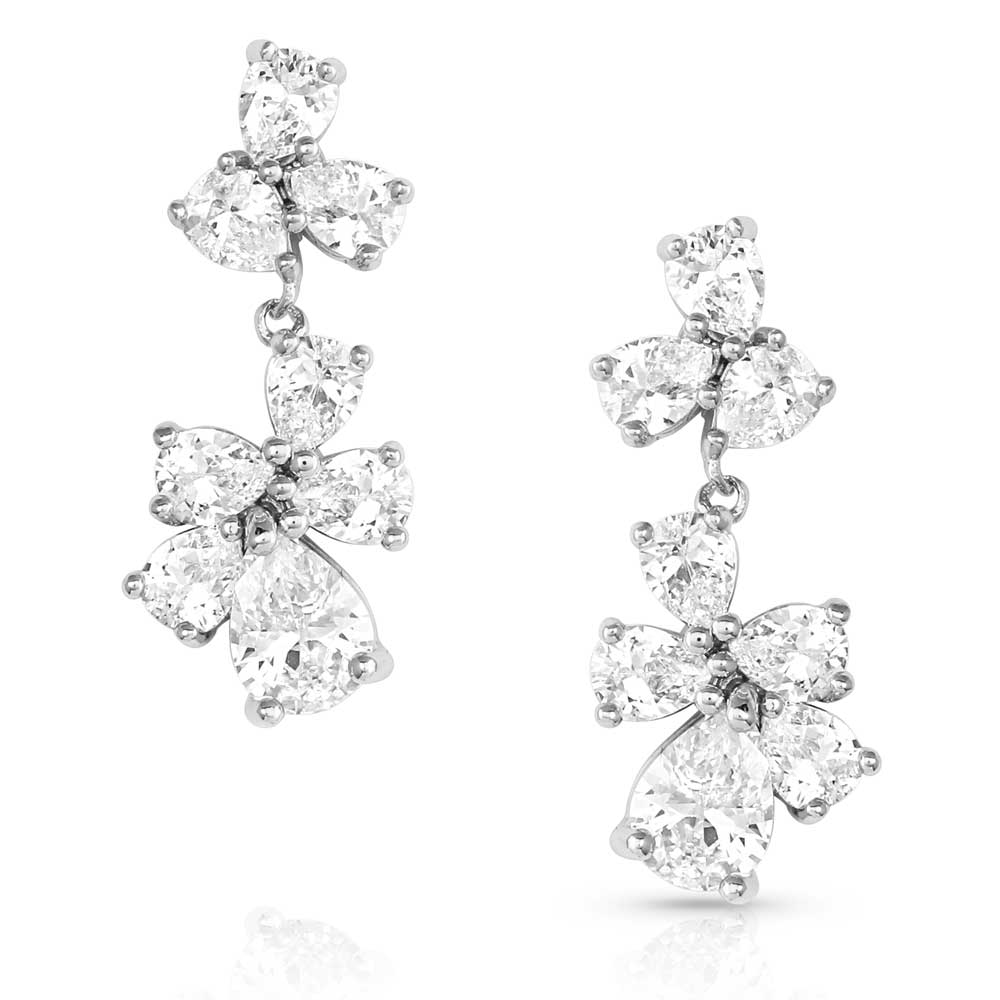 "I like these for kids in the cheap seats to see me sparkle from afar, especially as Miss Rodeo America. These earrings catch light in a beautiful way from any distance!"
Delightfully feminine these crystal drop earrings have a lovely floral-inspired design to lend just the right amount of sparkle and shine to an outfit. Beautifully faceted the clear cubic zirconia crystals are teardrop-shaped for classic charm while the overall look is dainty and appealing for a dressy event or special evening. The Loves Me Crystal Earrings are secured by a hypoallergenic post back wire.
---
Finishing Touch Turquoise Necklace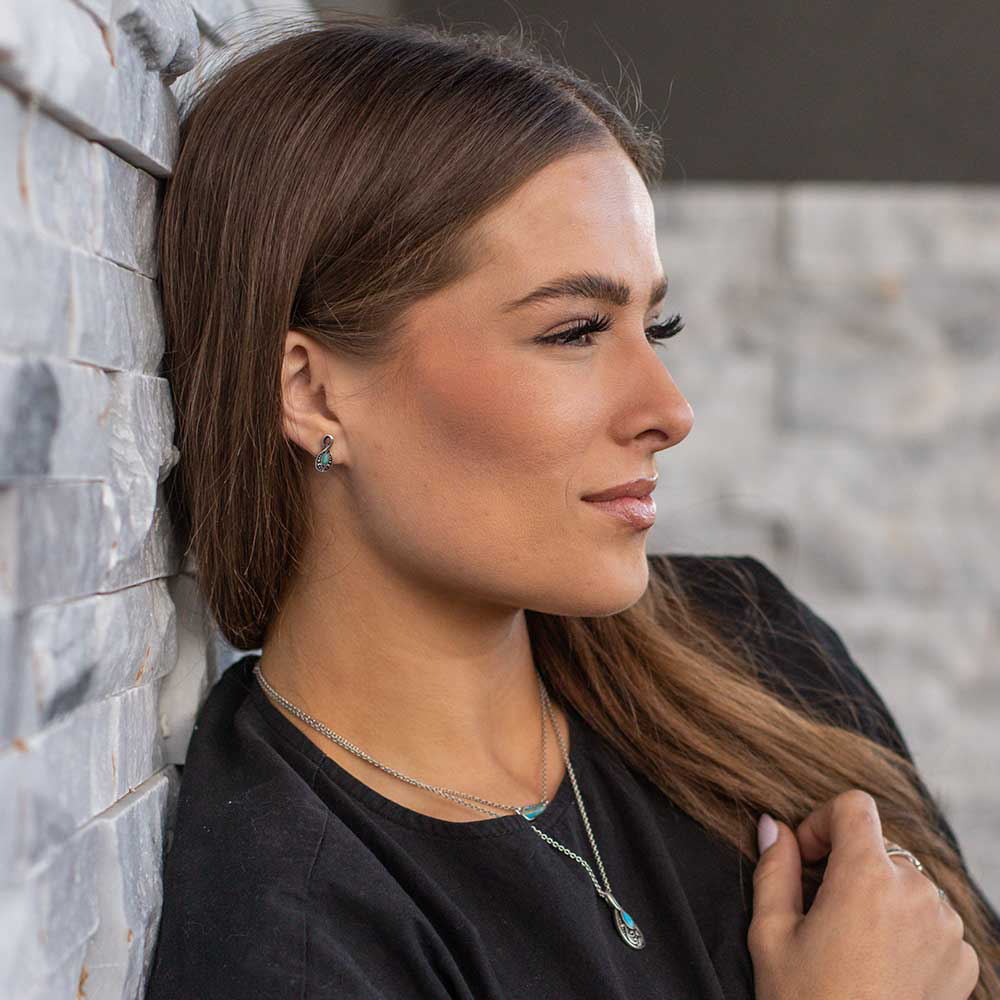 "I love the look of a simple bar necklace and this is one of my favorites. It adds a bit of western flair to any outfit, but its dainty size makes for a great layering moment too."
Add the finishing touch to any look with this simple necklace made to elevate and accentuate your style. The simple bar necklace features compressed turquoise with copper veins for a unique and interesting stone. The silver tone bar is tapered at the edges for a sleek look and attaches to a silver tone split chain that measures 18 inches. Pair this necklace with another Montana Silversmiths piece for an incredibly bold look or wear the piece alone for a minimal style, either way, this necklace will soon be a staple of your wardrobe. Stone color will vary.
---
Chiseled Arrowhead Earrings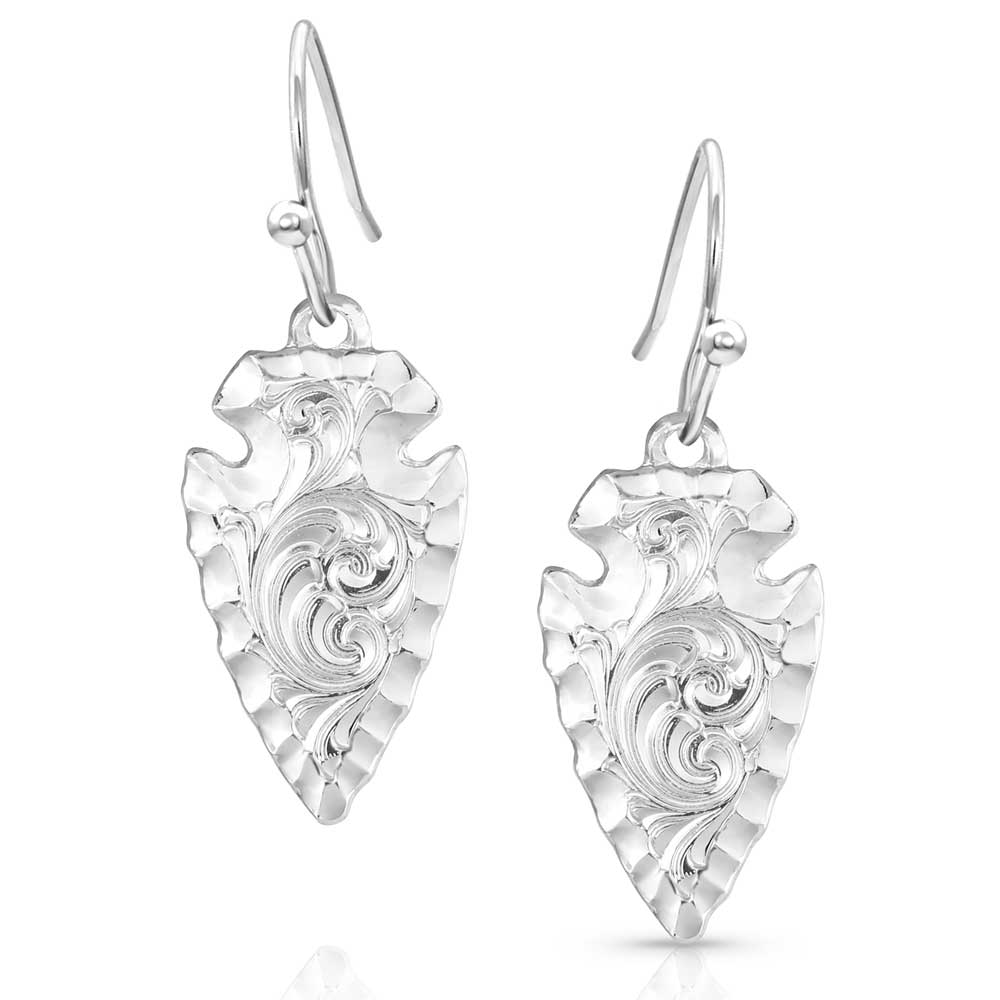 "Whether I am going out on the town or staying in, these are my go-to, everyday earrings. Their simplicity allows for me to pair them with any outfit. They are also very lightweight."
Imbue your style with fearlessness when you slip on these stunning Chiseled Arrowhead Earrings. Crafted with a beautiful chiseled effect these silver earrings have been shaped in the form of traditional arrowheads as a symbol of strength and protection. Wear your Chiseled Arrowhead Earrings with pride and wear them for inner strength and beauty. Secured by a hypoallergenic French wire.
---
Southwest Skies Scalloped Bolo Tie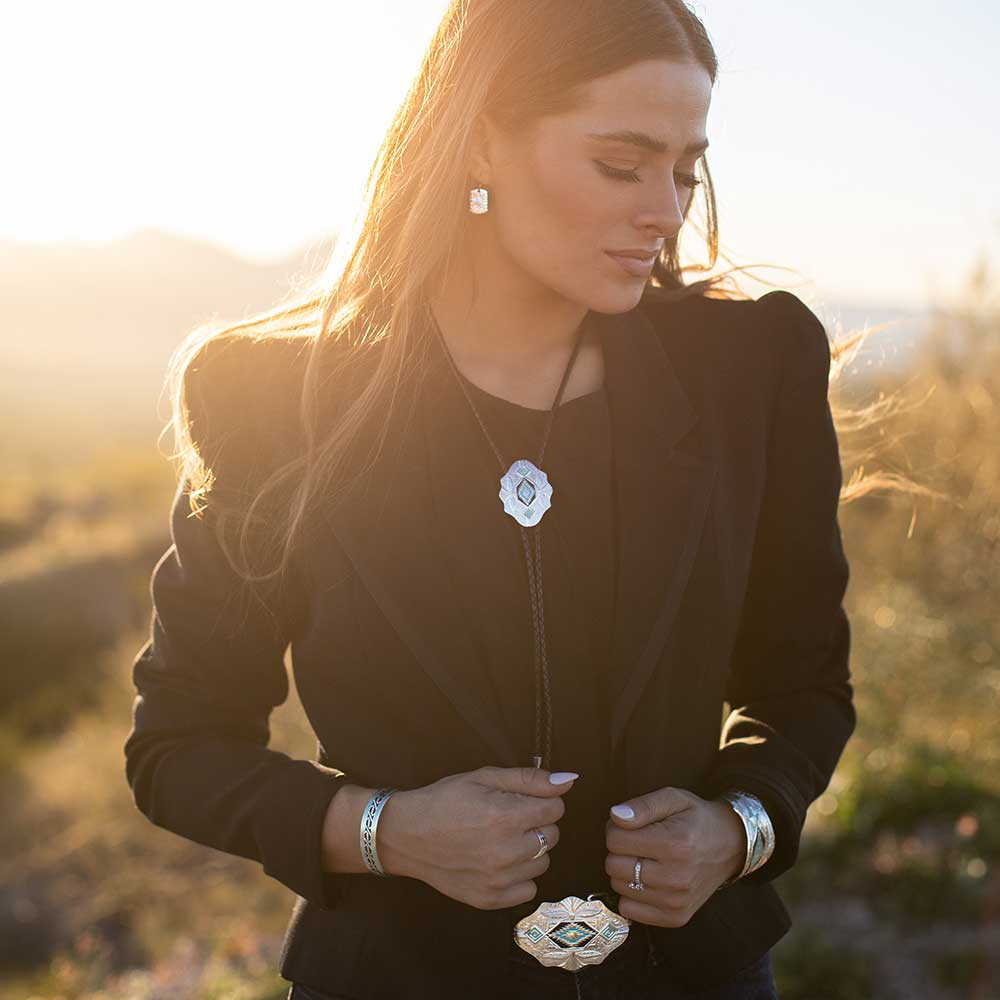 "When it comes to style, I am a retro girl, through and through. Wearing this bolo tie pays homage to my southwestern heritage. Its length pairs well with almost any necklace, too!"
Make a statement with this Southwestern inspired bolo tie. The bright silver tone of the interesting scalloped shaped bolo tie creates this bold design. The stunning design of the bolo tie is complimented by hand painted deep black and bright turquoise paint adding color and excitement to the piece. Perfect for both casual and formal wear, the Southwest Skies Scalloped Bolo Tie is a must have for your collection. The black braided leather cord is nicely weighted with two silver toned arrow pointed tips.
---
Antiqued Montana Classic Engraved Narrow Cuff Bracelet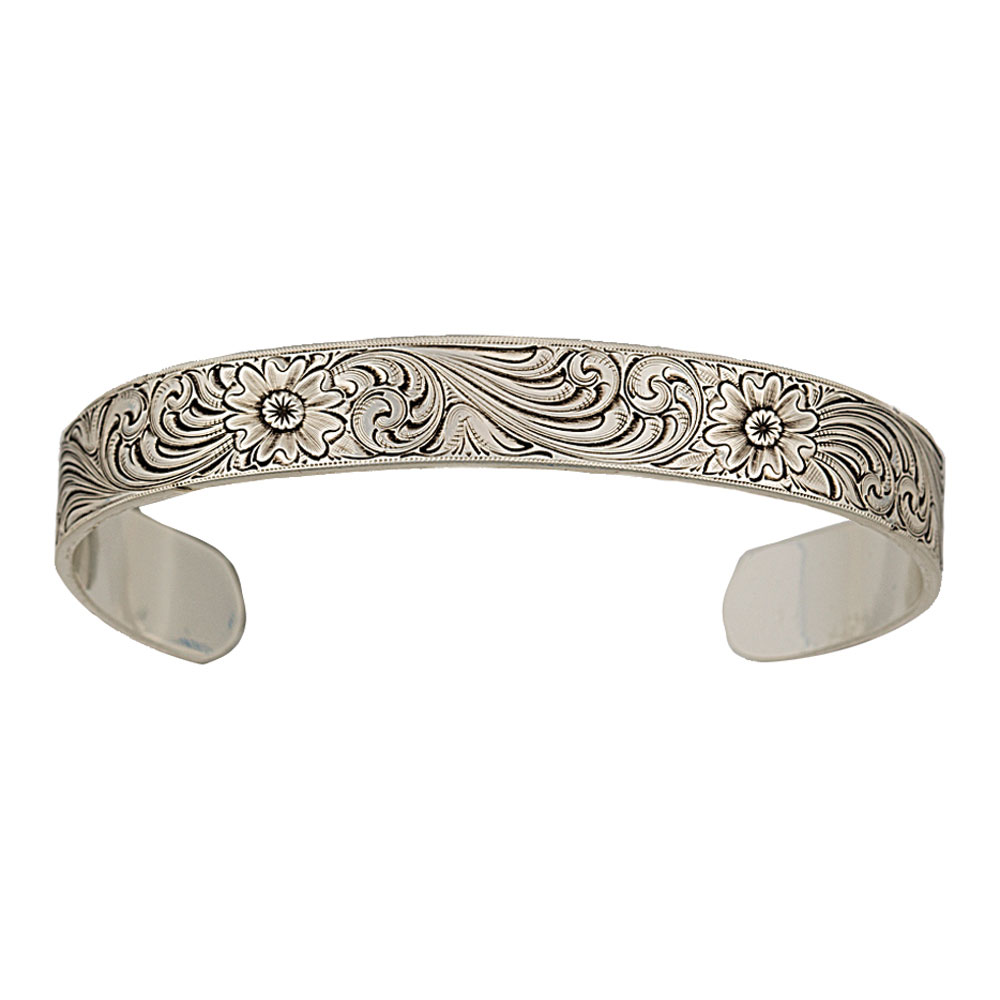 "This is one of the most constant pieces of jewelry in my wardrobe. I love stacking with other bracelets but it is such a classy look on its own too!"
This fully engraved, slim cuff bracelet reflects the simplistic and natural qualities of a western lifestyle. Delicate and beautiful, the antiqued silver finish highlights the engraved artistry for a fashion that transitions easily from casual to evening wear. Perfect for layering with other bracelets.