Wildest, Richest Rodeo in the West | Reno Rodeo with Montana Silversmiths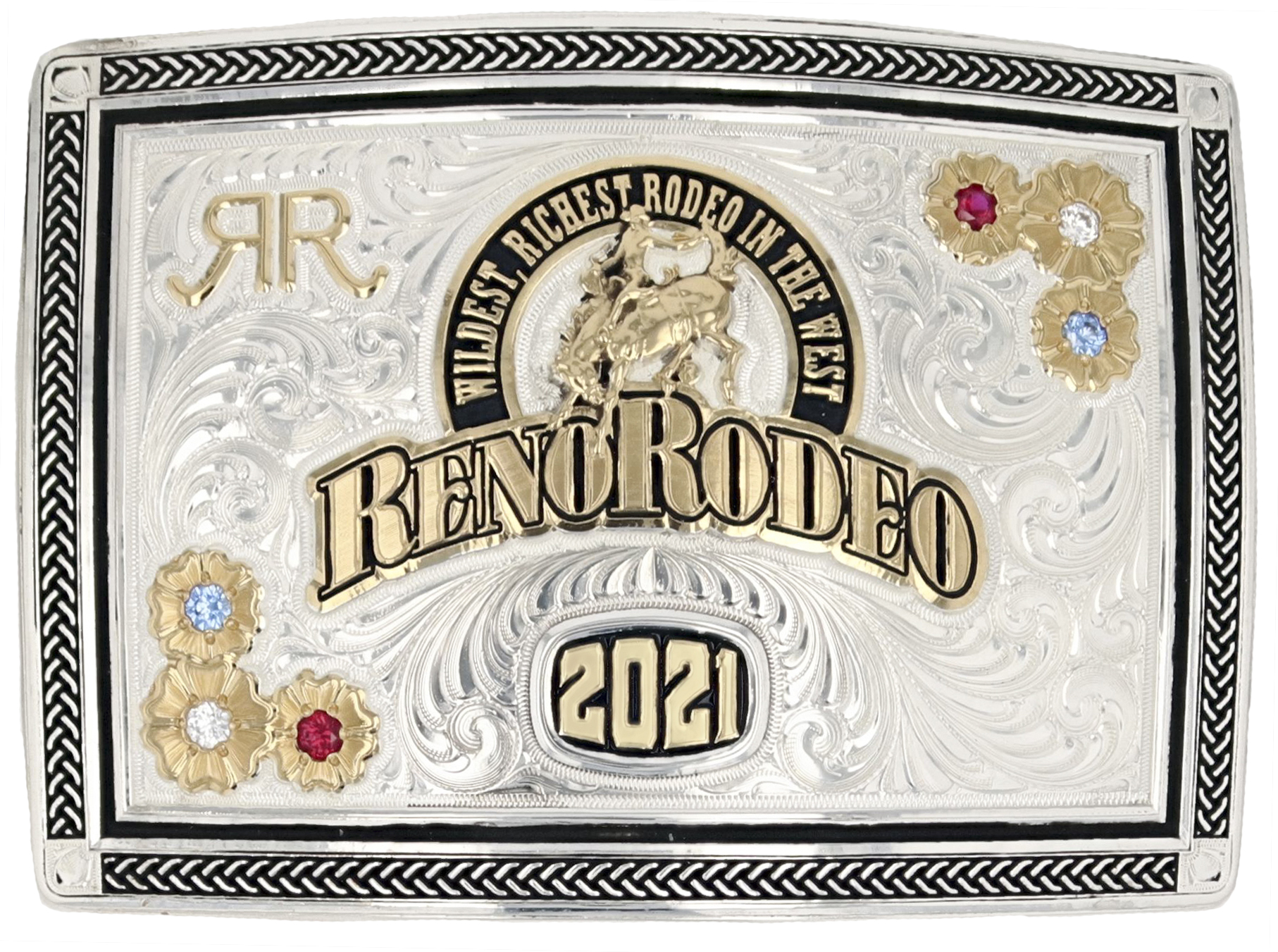 Take a drive around any given small town in rural America this summer and there is a good chance of finding a mob of trucks, trailers, cowboys, cowgirls, livestock and rough stock, parked around a dusty arena. Welcome back rodeo fans!
The "Wildest, Richest Rodeo in the West," Reno Rodeo, is celebrating 102 years of family fun this June 17th-27th. It is a true community experience with activities including: a golf tournament, cattle drive (for five days leading up to Reno Rodeo) downtown parade, carnival, country music concert, kid's days, breakaway roping, BFI team roping, championship drill team competition, Xtreme Bulls, wild pony races, Bullfighters Only, premier horse sale and world class rodeo action. Do you want to know the best part…as their official silversmiths we make buckles and awards for all of those events and more! That is about 830 buckles and more!
For the last 15 years, our partners at Reno have commissioned Montana Silversmiths to produce their commemorative, limited edition buckles for record breaking souvenir sales. Unique to the legacy of this buckle program is the Authenticity Card that is placed in each collector's buckle box.
2021 Commemorative Buckle Authenticity Card:
At the heart of this patriotic rectangle buckle sits the iconic Reno Rodeo logo, boldly representing the year 2021. The RR brand, finished in rich 24 karat gold, makes a classy statement. Notice the striking edge of braided rope is hand painted with black enamel to draw out each detail etched in 99.9% fine silver. Corner clusters of three gold flowers represent the past, present and future. Cubic Zirconia, Ruby and Sapphire Swarovski® stones are handset with care in the USA. Swirling silver artistry of the background is reminiscent of a desert storm. This Montana Silversmiths® belt buckle represents a deep-seated love for the freedom of the Wild West.
In addition to the successful line of die struck buckles and selection of sourced jewelry, we also hand fabricate the coveted Reno President's buckle each year and create high-end Silver Spurs for their event champions. Made in the USA. Thanks to the talented people behind our products, we've already solidified the order and created the die for 2022 buckles to be delivered early this fall.
"I've personally had the opportunity to meet and work with so many incredible and dedicated officers on this committee. To me, Reno is one of those rodeos that is legendary in the western industry. It's truly been a team effort over the years and a colossal thank you goes out to Steve Miller, Judy Wagner, Chandler Markel, Stephanie Brumfield, Carrie Lancett and every one in the manufacturing facility. We had to earn trust by providing not only the highest quality buckles and awards, but by going above and beyond with our customer service and support of the western lifestyle. That is the magic that keeps our loyal rodeo customers coming back for more and creates return on investment for our sponsorship programs." - Callie Adams, Montana Silversmiths Director of Events