Warrior Collection Release
Recent news around the world has made us all reflect on what we value, cherish, and what we may have taken for granted. Montana Silversmiths believes, now more than ever, that the true power and strength of our business lies in the stories of people. People who create special buckles from our online Buckle Builder or those who work directly with our designers to create a unique jewelry piece that speaks to them and their passion. The stories behind the buckle is why we started #everybucklehasastory and we've recently found that we need another #everypiecehasastory.
That is why Montana Silversmiths is so proud to partner with Warrior Collections. Their story stems from true American pride and the fervent desire to lift up their fellow man. Our relationship began in 2013, when we were contacted directly by the Kryptek Outdoor Group to develop a special product in memoriam. Montana Silversmiths created hundreds of bracelets honoring the spirit of a member of their pro staff, and true American hero, Chris Kyle. This commemorative silver cuff was aptly titled, An Epic Warrior from Battlefield to Backcountry, with 100% of the proceeds being donated to Taya Kyle and the Kyle Family. An additional forty bracelets were produced by Montana Silversmiths specifically for Taya Kyle. Each one of them was made in the USA, in our factory on the banks of the Yellowstone River in Columbus, MT.
---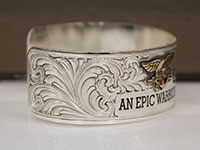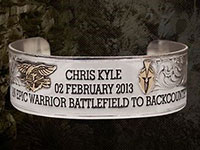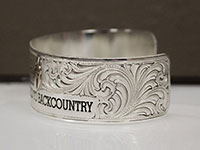 ---
Seven years later, through our relationship with Kristy Titus, Montana Silversmiths reconnected with Taya Kyle and her new business partner, Angela Zatopek for an exciting and truly uplifting endeavor. That connection has led to the design and release of a special necklace, made in Montana for Warrior Collections.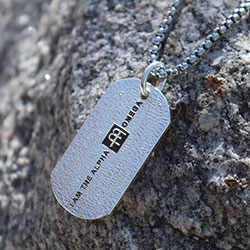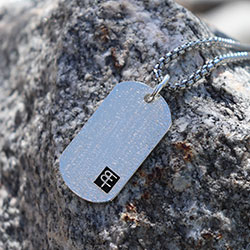 ---
About the Warrior Collections
There are times in life, where you not only feel God working, you see Him in the details. This is one of those stories. It starts with two women, growing up in different states, at different times. Both are fast-paced and adventurous, coming into the world with zest and a desire to take it all on with their own unique flair. They grew up wild and free, with a heart for God. And life does, what life does to all of us. It threatens to take their joy, it threatens to beat down goodness. They protect their hearts, they let their hearts break. They wonder if they will survive…. And they do. Each time that sword they were born with - the one holding their strength and desire to take on the world with a fire all their own - gets sharpened. It, and they, get stronger as God forges them. They meet in 2019 by a "chance encounter" that neither believes is actually "chance". They know it is God. They share their fire and passion. One has a jewelry business and one has a foundation serving military and first responders. Within an hour of meeting, the Warrior Collection takes flight.
Angela Zatopek is a woman who stands by her beliefs and principles, unapologetically, and gracefully. She is strong as steel and has a heart for helping others.
Taya Kyle is a woman who has endured much and has come out stronger with a desire to help others do the same. Both women know, it was God who brought them here and God who will bring others through.
In 2020, Angela and Taya are bringing Warrior Collections to the world in memory of a well-known warrior -Taya's husband - Chris Kyle. Chris was not only a warrior on the battlefield, but he was also a warrior in life for his family, his friends, and those who served. His spirit is represented in the first piece, launching Memorial Day 2020.
This piece, this dog tag, is to be worn by anyone who has a warrior spirit on the traditional battlefield, or on the battlefield of life. God has told us, He is the Alpha and the Omega. He is the beginning and the end. The Warrior Collections logo represents God, the beginning (backward B), and end (forward-facing against the B). This life, this mission, is represented by the cross in the middle connecting the B and E. It is a reminder that no one, even the most perfect among us, no one... gets out of this life without great suffering. The cross descends into the tip of the sword. If we are to survive this life, this mission, we must have a warrior spirit. This life is but a mission.
Who will you be? Will you be a warrior? Will you look at this life as a vapor, a moment in eternity? Will you take rest in the knowledge you have the great "I am" commanding the war, winning it all in the beginning and end? If so, you have nothing to fear. Wear the Warrior Collection as a symbol, a reminder of whose you are, and what battle you fight. Yours is a spiritual battle, just like ours. Stand strong friends. Together, with God, we can do anything!
---
About the Founders of Warriors Collections
Angela Zatopek
Angela Zatopek has lived on both coasts of the United States and been an active broadcaster and host on NBC, Fox, National Geographic, One America News, and The Christian Broadcasting Network. She has traveled as an International Reporter covering entertainment, politics, culture, and testimonial stories of hope.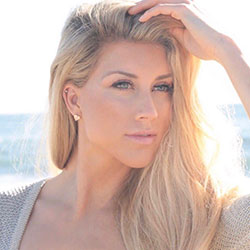 As a young girl, Angela began wearing a unique ring gifted to her by her father. The ring was a symbol of faith and a promise of purity. She took her oath seriously and has lived by it even in the face of adversity. In her early twenties, Angela was recruited to be on an NBC reality dating show produced by Eva Longoria. Yes, it was against her better judgment, but she has always been an adventurer and decided to take the leap. Angela has seen God work in many facets of life. She learned He even shows up in reality shows. Her most impactful moment during the show came in a conversation with a member of the live audience. The young girl thanked her for being bold in her faith and asked where Angela got her ring. That question ignited a fire in Angela to create other pieces of jewelry others could wear as a reminder of God's truths for our lives. Her passion for creating conversation-starting jewelry began. Angela departed from her full-time broadcasting career, returned to her home state of Texas, started Eleváre Jewelry (inspired by a girl's school she was introduced to during a mission trip to Africa years prior. Eleváre means 'to elevate' and that's exactly what her jewelry does. It elevates consciousness and conversation. Not long after starting Eleváre, Angela met the love of her life, Carson. The two reside in Texas and will be married in 2020 just as her second jewelry adventure, Warrior Collections, kicks off!
---
Taya Kyle
Taya Kyle is a mother of two young adults, who inspire and amaze her. She is a woman after God's heart and endeavors to carry on the legacy of her late husband Chris Kyle, while also creating a legacy of her own. Many people know Chris as the American Sniper from his internationally best-selling book American Sniper and Academy Award-nominated movie by the same name. Chris was killed by someone he was trying to help in 2013.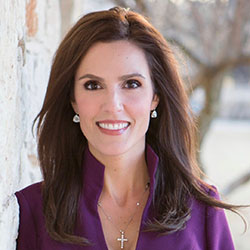 After his death, Taya became a NY Times best-selling author with American Wife. In an effort to help buoy the spirit of others who face hardships, Taya co-wrote the American Spirit – a collection of true stories of other Americans who have done great things with some of the worst parts of life. She has been a contributor and activist for various efforts and through a variety of other outlets. Taya serves as the Executive Director of Chris Kyle Frog Foundation where the mission is to serve God, Country, and service families. When service families are not just surviving, but thriving, suicide rates decrease, effective PTS treatment increases, force retention, and readiness also go up. Taya's newest projects releasing this year and next, include a children's book series called Prayers for Bears, Warrior Collections jewelry line, and her new book called Relentless Love. Taya is also working on two television projects where she hopes to inspire others through the telling of other heroic stories.
---