Montana Silversmiths executive to spend time with his other passions

COLUMBUS, Mont. – Steve Miller's life had been set up for him as a youngster. He was the fourth generation born into a Montana logging family, but fate had another plan.
With no college degree, he set out a path of hard work and a powerful presence to become a major resource for Montana Silversmiths, the most recognized buckle-maker in Western sports based in Columbus. After 27 years of dedicated service to the brand, Miller is retiring from Montana Silversmiths, but, boy, does he have a story to tell.
In nearly three decades with the company, he's built brilliant sales forces and been an influencer in the silversmithing business. He's continued to showcase Montana Silversmiths through each phase of his work with the company, and he will be celebrated at his final event as a company representative during the National Finals Rodeo this December in Las Vegas.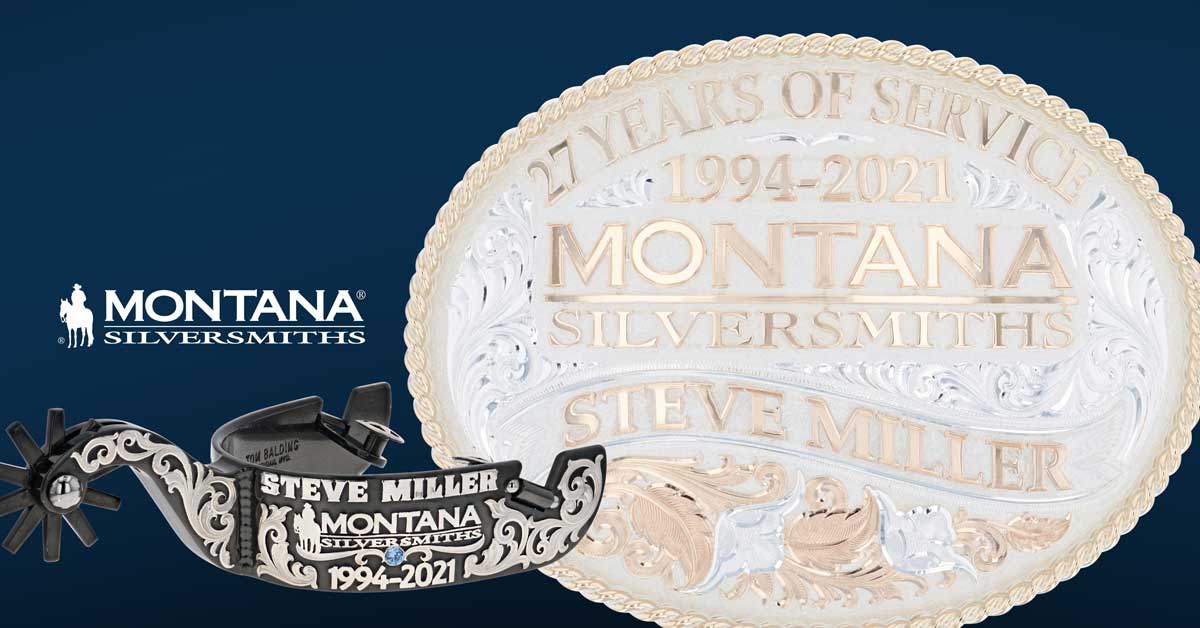 A change of fate

Like the Miller men before him, Steve Miller had made his way through the mountainous terrain of Montana by sawing down trees. Paid by the tree, he could mow down many in a flurry of activity.
He'd been raised around this. Hunting, fishing, and logging were what he knew best. It was a family legacy he was carrying, after all. But things changed in 1980.
A logging accident ended it all. He'd suffered a broken back, and his logging career was finished.
"It was the worst experience of my life and the best experience of my life," Miller said emphatically. "They told me I could not lift a chainsaw or saw logs anymore, and I said, 'What the hell am I going to do? I've got two kids and a wife.'
"I cleaned theaters in Kalispell (Montana). I helped out a friend who owned a cleaning service, and I went on food stamps."
While dragging himself through that muck, Miller ran into a family acquaintance, Chuck Brashear, a man who used the services of Miller's father, an elk hunting guide in the Montana mountains. Brashear owned Rocky Mountain Miracle-Ear, a franchise in Kalispell, and Miller's life was about to change.
"He said he could teach me how to fit hearing aids, but I needed to train under his license for a year," Miller said. "I'd never done anything but saw logs. I didn't have a college education. He said, 'I just had my knee operated on, so if you'll drive me around for three weeks, I'll pay you $300 a week.'
"It was the best offer I had."
And it worked for the next 12 years of his life. He was a top salesman, then was promoted to the regional manager for Dahlberg Electronics in Southern California, the parent company for Miracle-Ear. Within four years, he was promoted to director of sales and marketing for Miracle-Ear and was based in Minneapolis, and the course of his life had changed dramatically.
What he didn't know was that it was only going to drastically improve. A self-proclaimed lumberjack hillbilly, he still had a hankering for being outdoors and involved in something completely different. Looking outside his seventh-floor office, he decided it was time for a change.
"I was roping, but I had my horse in a stable 50 miles away," Miller said. "I never got to ride, no place to rope much. I put out my resume to everybody I thought I might like to work for in the Western industry, and I'll be damned if Dennis Potzman with Montana Silversmiths liked what he saw and hired me.
"I ran their sales rep force, and I put together one of the best rep forces in the country. That will be almost 28 years ago. I'll be two months short of 28 years when I retire."


Take me to Montana

In the 1990s, honky-tonks had given way to elaborate clubs that played the top country music of the time. Line dancing was the scene at most of the joints across the country, and Western clothes were all the rage.
"I told Dennis, 'If we're going to stay in business after all the line dancing, the silver boot tips and fake stirrups the line dancers were buying comes to an end, we'd better get in the real trophy buckle business.
"We had gotten the contract for the Quarter Horse (AQHA) in 1994. We built on that, and we started making hand-made buckles. We got the contracts for the PBR and the PRCA in 1999. A lot more fell into place after that. In 2008, we split the retail business from the award buckle business. I was hired on as the vice president of sales and marketing, then vice president of event marketing. We've built it up to what it is today."
In terms of volume, Montana Silversmiths is the No. 1 Western silver manufacturer in the world.
Ten years ago, he moved from Montana to Colorado Springs in order to be closer to clients and a major airport. For a man that had never traveled before his broken back, Miller has become affluent with airline travel. It helped him and Montana Silversmiths build the brand.
That also included Miller utilizing his own artistic talents.
"After we bought Big Sky Carvers, we needed a Western line of sculptures," he said. "Big Sky's artists couldn't make Western art. They didn't know what an appropriate saddle would look like, so I said to Dennis, 'We have announced this line and are going to roll on it, and they can't get any sculptures done.'
"For the first line we introduced about eight sculptures, I made them at my kitchen table after working on weekends. We did the Steve Miller Signature Line, which was nine sculptures. I can't make a sculpture until I create a story, then I need a title that sums up the story in one line."
For the sculpture of cowboys roping a grizzly bear, his title is "When Cowboys Take a Dare." His artistic talent had just been part of his life for as long as he can remember. It was also a big deal to him that his artwork was used in association with his work with Montana Silversmiths.
"It was an honor and still is an honor for a lifetime for them to trust me with it," Miller said. "It was a very successful line."
It seems many things that touched Miller at Montana Silversmiths turned into gold, including the buckles awarded to world champions.
"All of us at Montana Silversmiths will truly miss Steve Miller," said Jack Gunion, chairman and CEO of Montana Silversmiths. "He has made an incredible contribution over these past 27 years. Steve is a very creative individual, not only in his artwork but in his business skills as well. Whatever the obstacle, Steve would always have a creative solution to solve the problem.
"We are very grateful for his dedication, professionalism, and can-do spirit. His contacts and knowledge within the Western industry have been invaluable in contributing to the success of our company."


Life after retirement

Miller and his wife, Sammi, have five children and three grandchildren. They live in Guthrie, Oklahoma, which is in proximity to the NRHA's headquarters, where she works. It's there that he has built his own little art studio in their back yard, and he loves to spend his time in there when he can. That's what he'll do a lot of in the coming months and years.
"I would love to do some consulting for people in the industry," he said. "I know how to put together a good sales crew. I know how to teach people to be good salespeople. I would love to help rodeo committees with their marketing."
He'll also continue to study his own genealogy and is in the process of writing a book about the "side job" he's had the last 30 years. Technology has aided in that in recent years, and it allows him the opportunity to continue to trace his lineage without having to traipse across the country checking out cemeteries and libraries and all the other resources he has used for so long.
"I traced my line through Missouri, Indiana, Ohio, and to Pennsylvania, and lo and behold, my fourth great grandfather was a Revolutionary War soldier who spent the winter of 1777-78 in camp at Valley Forge under George Washington," Miller said. "My grandmother's father's line, Bower, he also spent the same winter in Valley Forge.
"I often wonder, 'Did Grandpa Miller and Grandpa Bower know each other, then their grandchildren get married 150 years later in Montana?' In April of 2018, I was accepted into the Sons of the American Revolution, which is one of the things I'm most proud of in my life."
As he reflects on his time so far on this Earth, he has realized the things that bring him the most pride, whether it's artistically, genetically, occupationally, or socially. Steve Miller has been one of the good guys for a long time, and it looks like he'll continue that for years to come.
"What I love is the people I've met, the (rodeo) committeemen I've met," he said. "A lot of these people will be my friends for the rest of my life. That is the best part of this job in a business that I wanted to get in, and I'm glad I've been a part of it."