Pay it Forward 3D Mask Printing
Montana Silversmiths is humbled by the overwhelming response and inquiries into purchasing the 3D masks. At this time all 3D masks that are being printed are allocated to the first responders and healthcare agencies in our community.
We are currently working to increase the capacity to make the masks with the addition of more printers.
In the meantime, we want to "Pay it Forward" by getting the word out as much as possible on how people can help their communities. Montana Silversmiths wants to encourage anyone with a 3D printer to help! We invite all hobbyists, dentists, schools, universities, anyone with 3D printers to start making these MONTANA MASKS and delivering them to your local hospitals, healthcare workers and first responders. We are so proud of the Doctors who developed these masks right here in our backyard. Way to go Team!!
How You Can Help In Your Community
Included below is the link to the mask plans. The masks require a filter that can be made by cutting up a single mask into 6 pieces or by ordering custom filter patches from Shane at High Tech Filters at 800.785.6985.
See directions on https://www.makethemasks.com/
---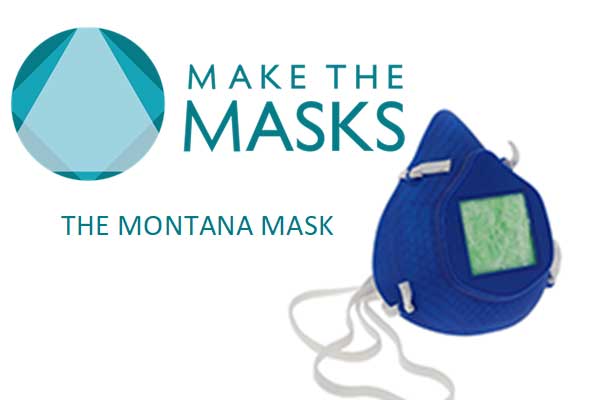 ---
We learned on March 21st of the 3D mask plans developed by Dr. Dusty Richardson, Dr. Spencer Zaugg, and Colton Zaugg at the Billings Clinic in Billings, MT. We knew this was something we could do to help support the efforts and fight against Covid-19 and make it safer for those in our community.
The Montana Silversmiths team has developed a process to mold the plastic masks with Fit Protocol for adjusting the mask for an individual fit.
Leave filter clamp in place and place mask in a 170-degree oven for 20-30 second intervals until the plastic becomes slightly soft
Place a mask on face and form the mask with your fingers
Check fit by covering filter port with your palm while inhaling to identify leaks
Place mask back in the oven to reheat and fit until a snug fit is achieved
Please ensure that you check out the FIT FAQ

here on this site

https://www.makethemasks.com/faq

for more detail
We are all in this together as we meet these challenges.
We appreciate all those who are working hard to help fight COVID-19. Thank You!