New Releases 2021 from Montana Silversmiths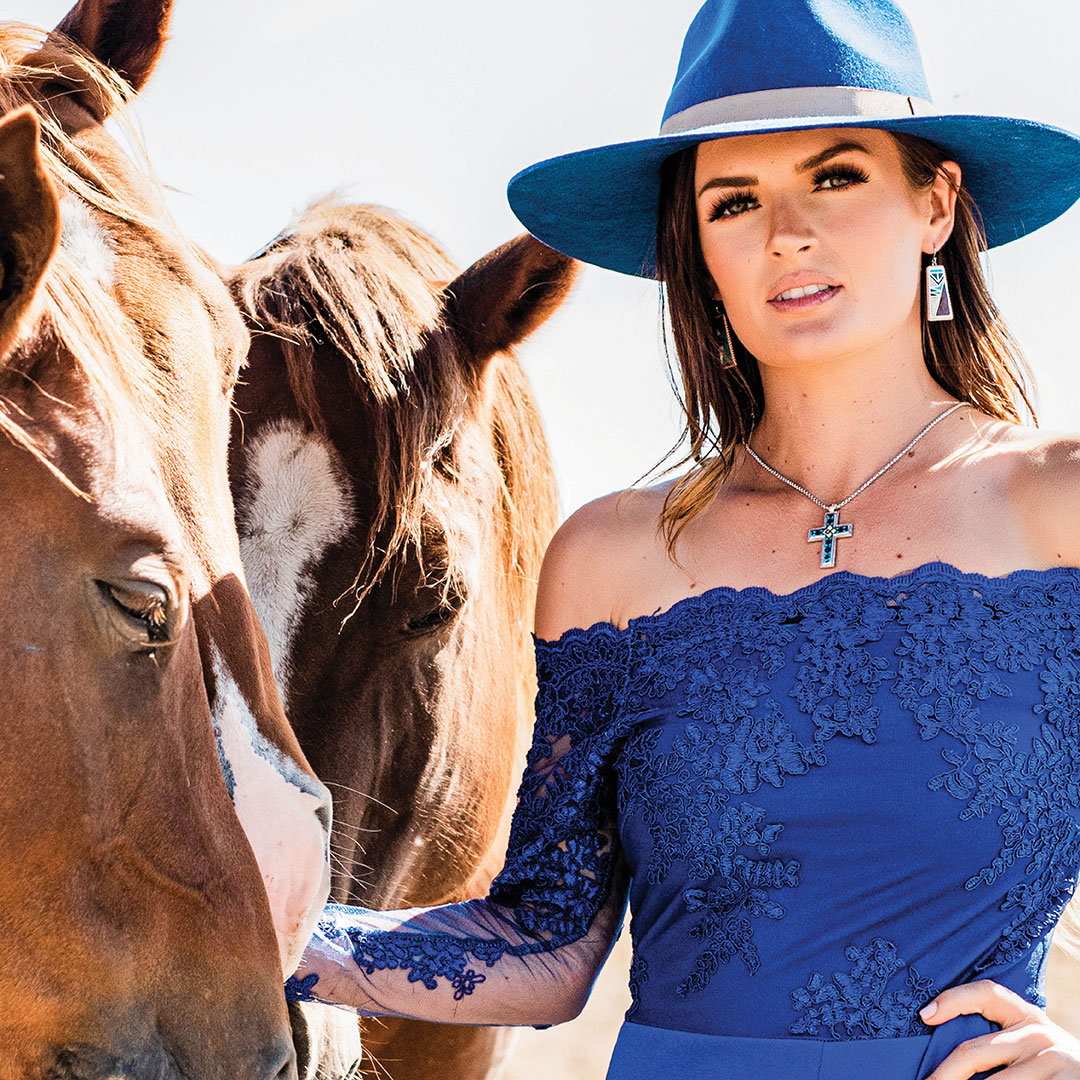 The year we've all been waiting for is here: 2021.
This year feels big.
This year feels transitional and full of hope.
It could be the year that holds more social gatherings, concerts, church services, traveling to see loved ones. It could be the year that we all feel "normal" again. It could be the year that we braid our struggles of 2020 together, reflect, regroup, and flourish.
Here at Montana Silversmiths, we also consider this the year of our biggest product launch to date.
Our designers considered your resumed church services, your replanned trips, and family gatherings, your dearly missed rodeo events, country concerts, and fairground FFA showings. Our designers
Scroll down to take a look at our new feather necklaces, western men's accessories, rose gold with gem earrings, adjustable rings, turquoise jewelry sets, and more accessories.
American Legends Collection
Inspired by the resilience of American legends, this geometric and colorful collection catches the eye of all. Turquoise, ruby, and cream crystals are bonded together in a dance of sparkle and rose gold roping. This collection features muliple different earrings and necklaces to showcase the American Legend in us all.
Men's Accessories
Western bolo ties, men's necklaces, money clips, watch bands, hat feathers, and more... Adding to our men's accessories section is one of our passions.
Signature Necklaces
Western poncho necklaces, bolo necklaces, statement necklaces, layering necklaces, and soft leather necklaces are some of our favorites from this line.
Signature Earrings
Montana Silversmiths produces some of the most unique, country lifestyle earrings on the market.
All of our earrings hang from hypoallergenic steel post-backs, French hooks, or wires and are designed with your individuality + style in mind.
Class Buckles & Attitude Buckles
One of our foundational products is the belt buckle. They are the O.G. in our product line and will always be. We make western belt buckles, patriotic belt buckles, belt buckles for men, belt buckles for women, oversized buckles, cowboy buckles, Christian belt buckles, and more. And if one of the belt buckles from our 2021 Signature Line doesn't catch your eye, check out the custom belt buckle maker.
Signs of Faith Cross Jewelry
For men and women that are dedicated to their faith and love to represent the Lord, we've designed a new collection of cross jewelry pieces. We've got sterling silver cross necklaces, turquoise cross earrings, nature-inspired cross necklaces, and modern cross earrings.
Feather Jewelry
Feather jewelry is representative of the nature it is inspired by. Shop feather necklaces, feather earrings, feather jewelry sets, and men's cross necklaces with feathers below.
Jewelry Sets
Jewelry sets are our favorite because they complete your look instantly. There is no guessing or time spent on curating different jewelry pieces. Our new 2021 product lines holds jewelry sets for everyone - western jewelry sets, cross jewelry sets, jewelry sets with turquoise, jewelry sets with pearls, feather jewelry sets - you get the picture. There is one waiting for you below!