Miss Rodeo America 2022 Hailey Frederiksen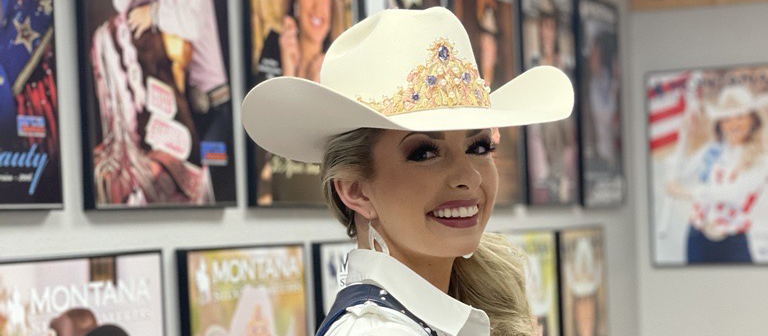 A passion for western and rural heritage is common ground between Montana Silversmiths and Miss Rodeo America. Since 2001 we have partnered with this amazing organization. Each year a new Miss Rodeo America is crowned and throughout her year she serves as an ambassador for the western industry and rodeo. Through our partnership Miss Rodeo America is a spokesperson for Montana Silversmiths sharing our story through her own Montana moments in wearing our jewelry and her title buckle. For over 21 years, we are honored to be a part of their journey and have grown in our appreciation of Miss Rodeo American Inc and the women who become Miss Rodeo America exemplifying talent, dedication, intelligence, and beauty.
Montana Silversmiths provides Miss Rodeo America with an entire jewelry wardrobe to wear throughout the year and crafts the coveted Miss Rodeo America title holder buckle. In addition, each year the newly crowned Miss Rodeo America receives the Perpetual Buckle at the start of her reign. Every buckle has a story, this buckle was created to be worn after being crowned and until she receives the title buckle with her name on it. The buckle has a stunning sterling silver base and filling the background is gorgeous rose and yellow gold filigree. Hand-cut letters sit center of the buckle to boldly read Miss Rodeo America. Six rose gold flowers with diamonds are spread out across the buckle. When the new queen receives her own coveted Miss Rodeo America Buckle with her name on it, she then gives the perpetual buckle back to Montana Silversmiths. Her name is etched on the back serving as an everlasting remembrance of her title with the other names of those that have gone before her. Once the back is filled it is retired to the Hall of Fame and is replaced with a new buckle. Currently, there are two previous perpetual buckles in the Hall of Fame.
Replacing the Perpetual Buckle is a Miss Rodeo America title buckle, personalized with the year as well as the queen's name in raised silver letters and a gold ribbon. The stunning sterling silver buckle boldly features Miss Rodeo America in the center in brilliant gold. Hand-cut copper filigree fills the open space with beautiful sterling silver flowers on each side. This year we were able to present the 2022 Miss Rodeo America Hailey Frederiksen with her buckle at the WESA market in January. This is an incredibly special and monumental moment each year and reiterates that every buckle has a story. This buckle will travel with her throughout her reign and for years after.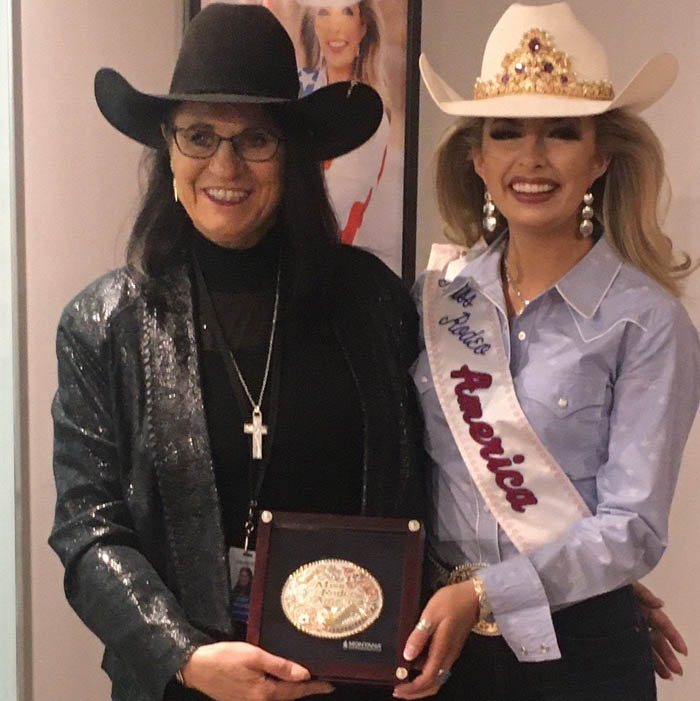 Another tradition that we look forward to is the Miss Rodeo America photo shoot. This year we welcomed Hailey to the banks of the Yellowstone in June for our Holiday Photoshoot. Each year the current title holder comes to participate in a Montana Silversmiths photoshoot to serve as the model for our catalogs, advertising, and digital media. This includes a tour of our factory in Columbus Montana as she learns about the artistry and meets the people behind the product.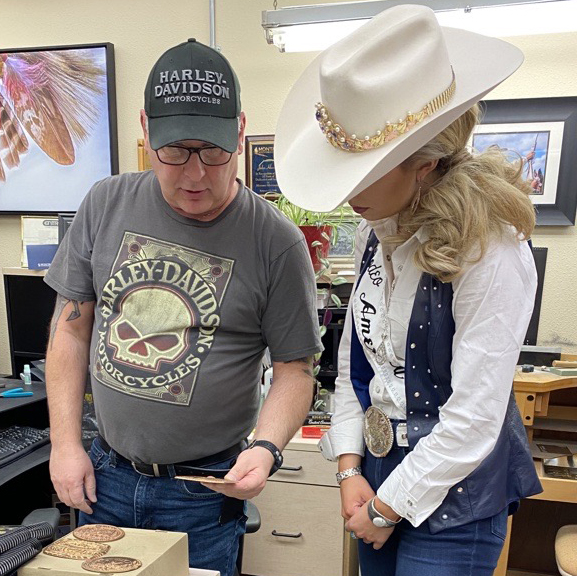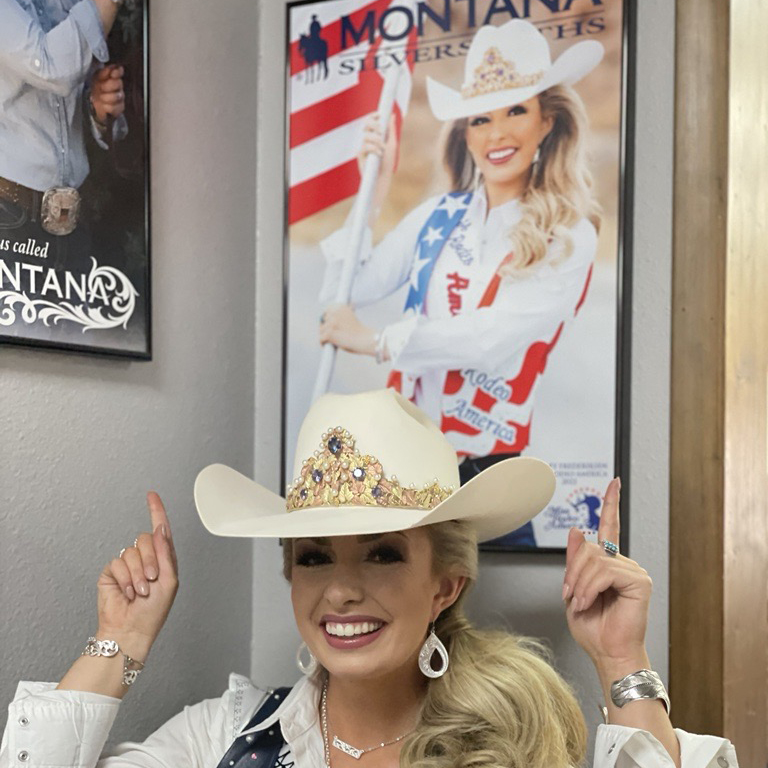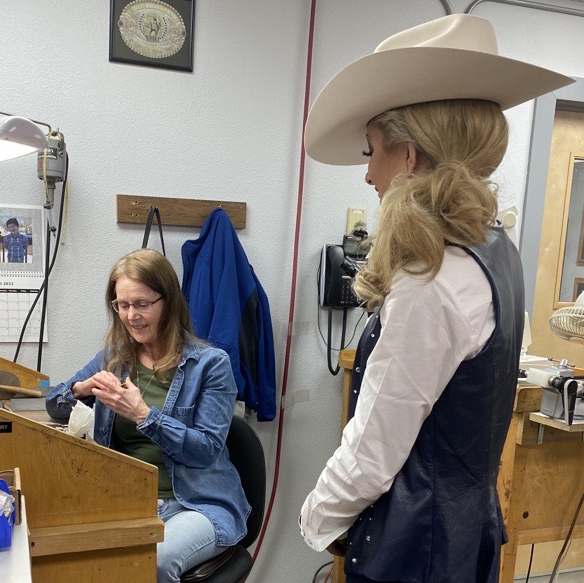 Hailey's Concho Earrings and Necklace
In our Fall Celebrate catalog, we introduced the Hailey's Concho Earrings and Necklace. This incredible necklace and earring set was redesigned from an old Montana Silversmiths piece that was a favorite of the 2022 Miss Rodeo America Hailey Frederiksen. We named this piece the Hailey's Concho because of her story about the jewelry and her enthusiasm for Montana Silversmiths. The essence of the concho encompass the beauty of silver artistry and the romance of the west. The simple three-concho design features stunning and detailed western engraving on each piece. Take this set everywhere with its lightweight design that is easy to wear and perfect to wear, in or out of the arena. Let your light shine with the Hailey's Concho necklace and earrings set.