Front Line Tribute with Kellie Rettinger
Montana Silversmiths celebrates first responders, front line heroes, and the everyday heroes we know and see on a regular basis, our family, friends, and partners. We are joining with others and celebrating the power of doing good, of doing what it takes every day, and during this time in particular. We regularly celebrate the stories behind each buckle, today we celebrate Kellie and her story, a friend of Montana Silversmiths with events and community outreach.
Montana Silversmiths is proud to help support all first responders and all front line workers doing what it takes every day to make our communities safer.
---
People like you, doing what it takes...
My name is Kellie White Rettinger. My husband Sam and I are the proud owners of Whispery Pines Percherons, home to eight beautiful black Percheron geldings. Whispery Pines is a working farm that involves us in fair competitions, expositions, horse shows, logging, and transportation for special events such as weddings, funerals, parades, and sleigh rides. Our focus is to bring our love of horses to the world by enabling people to experience our horses on a personal level. In doing so, we showcase the versatility, grace, and beauty of the Percheron breed.
I have always had a passion for helping people, inspiring people, teaching people. This holds true in both of my professions. Horses and Healthcare. Horses have been a part of my life since I was born, and I have been working in Healthcare since I was eighteen. I have had such a rewarding career with both.
In July of 2019, I went PRN at my local Hospital Ashtabula County Medical Center to pursue my dreams with my horses. Working full time and the amount of traveling that I do with my horses (for shows and performing) was becoming a challenge. My co-workers were all in so happy for me to chase my dreams. They all always say how much they will miss me but to go and do what I was born to do, to share my love of horses with the world. I have had a wonderful time and some amazing travels.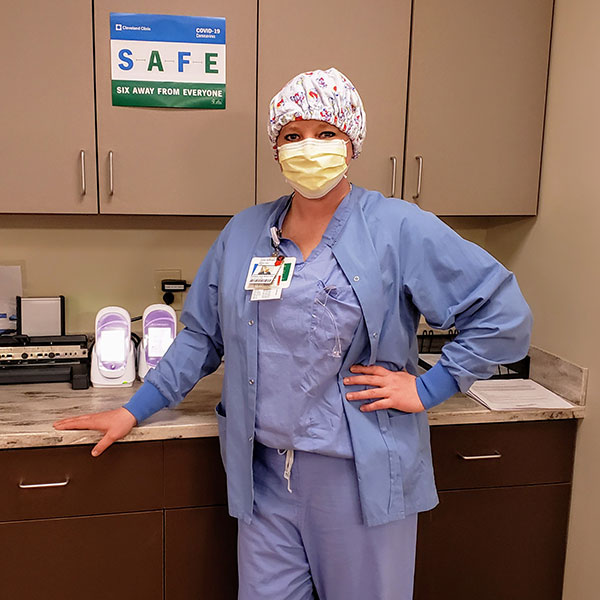 ---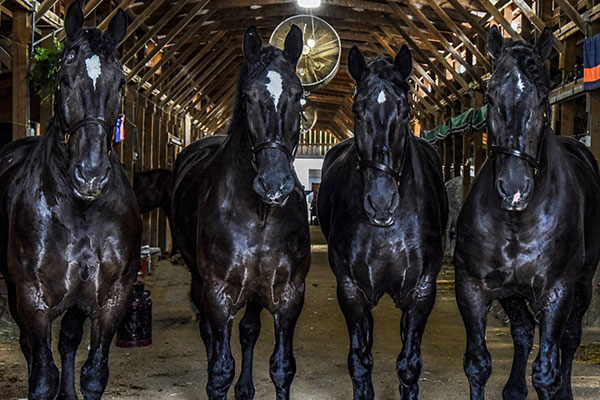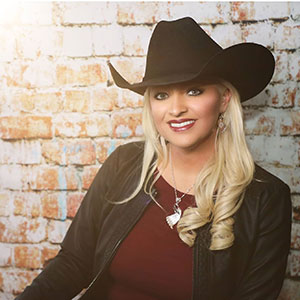 ---
2020- We had an amazing year lined up for Whispery Pines Percherons! But 2020 had something very different in store for all of us around the world, Covid-19. So many positive Covid patients in our area alone. We had a local nursing home that had 26 infected, and now the prison is experiencing the same. I am staying strong with help from my coworkers and family and friends. My faith is strong and I know we will get through this.
This virus has affected everything me, my family, crew, and horses. Our way of life has changed drastically. I am now back to work at ACMC Hospital. I am proud to serve my community and be with my co-workers. I am also very thankful to be working as all events, logging, and my carriage business (weddings, parades, community gatherings) have been canceled.
I know this is a very trying time for everyone, a time of uncertainty, concern, change, and fear. But I have seen so many amazing things come out of this. Communities coming together, meals donated, supporting local business, adopting Seniors, fabric donated for masks and so much more.
I regularly perform as Wonder Woman on my Percheron, Ace. Wonder Woman stands for courage, wisdom, wonder, justice, equality, and strength. Instead of on the back of my horse, I am now standing with my fellow co-workers doing the same. I bring that same demeanor to the hospital with me. I always say Wonder Woman is not a fictional character it is a mindset!!!!!
---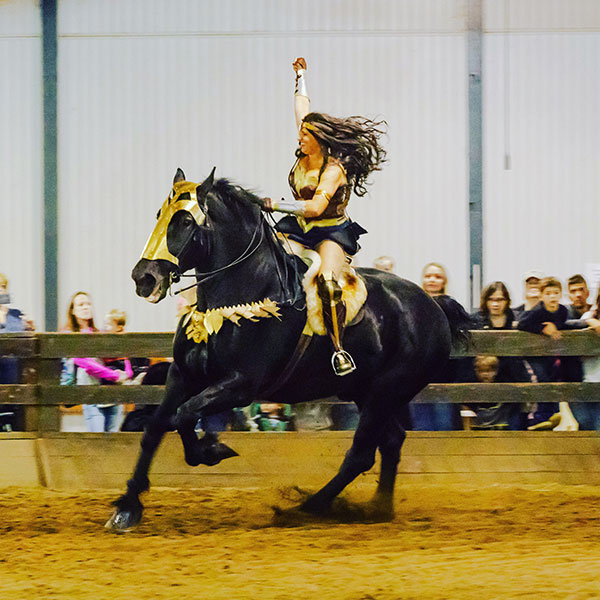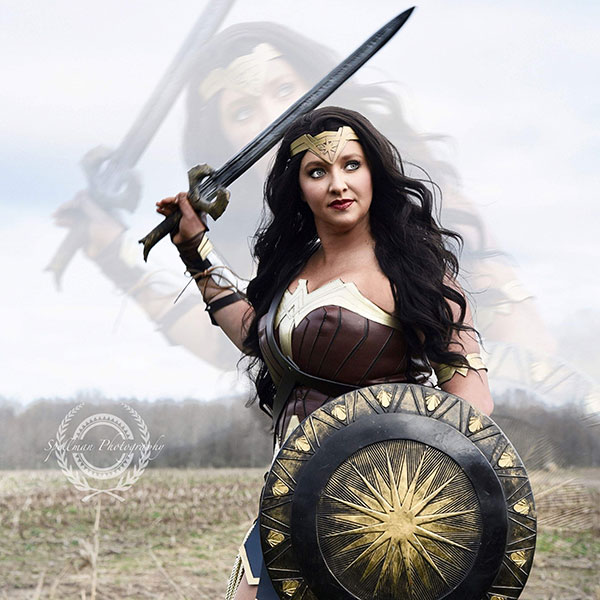 ---
My husband Sam has been amazing through all of this, his love and support are beyond compare. My family and friends are doing the same. I am grateful to have so many people who care for me. We are all in this together. I know our time sharing of our horses will come again.
Whispery Pines Percherons which includes 8 Draft Horses, 8 crew members, and tons of family is so proud to be part of the Montana Silversmiths Family. Since 2017 we have represented them. More than ever I am so proud to partner with Montana Silversmiths as they are innovatively printing masks through this pandemic.
Montana Silversmiths Masks